Peace Mothers in Istanbul protest "for peace and freedom against war and violence"
The Peace Mothers Initiative in Istanbul, which organized a march against war, stated that the government's dirty war policies are to blame for the violence and chaos.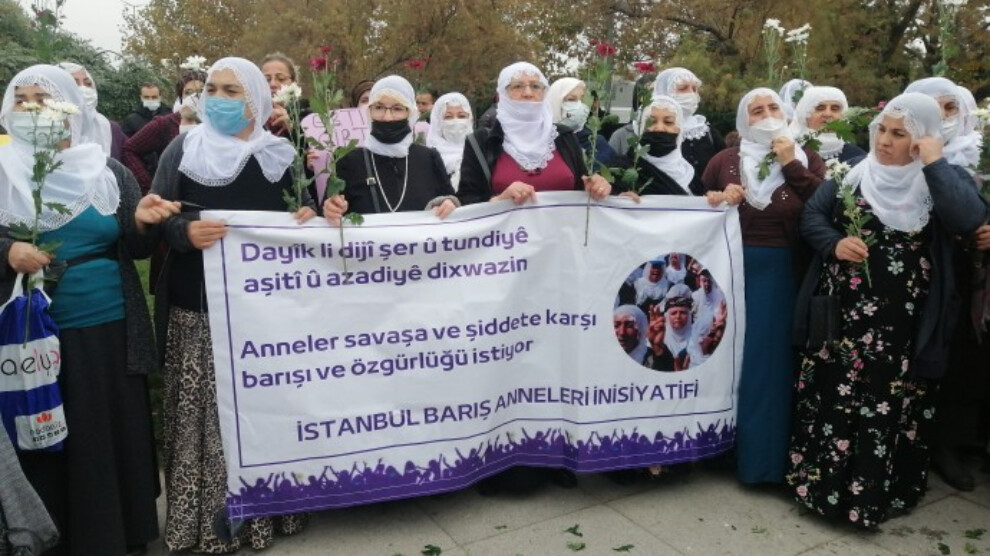 With the slogan "Mothers want peace and freedom against war and violence," the Istanbul Peace Mothers Initiative gathered in front of the Peoples' Democratic Party (HDP) district representative in Küçükçekmece district. The protest was attended by members of the Free Women's Movement (Tevgera Jinen Azad -TJA), HDP Küçükçekmece District Co-chair Gülsüm Öztürk, and many other women.
Despite the efforts of police to keep the group from staging their action, women marched to the Küçükçekmece Lake, displaying banners that read "Women don't want war", "We are mothers, we stand for peace," and "Jin Jiyan Azadi." 
'THE GOVERNMENT IS RESPONSIBLE FOR MASSACRES'
Bedia Gökgüz, on behalf of the Peace Mothers, read a statement following the march. In response to the recent claims that Turkey uses chemical weapons in South Kurdistan (North Iraq), Gökgüz stated that they came together to stand for peace against isolation and conflict. "The reason for these massacres is the government's war policies," Gökgüz said, emphasizing that they do not accept violence against women. "We, as women, condemn these policies," she stated.
'WE DO NOT WANT WAR'
 Gökgüz further made the following remarks:
"The dirty war is to blame for the violence and turmoil in the country. This system and the government are the main causes of this dirty war. Violence against women will not be eradicated until this system is dismantled. Every day, the government forces imams to preach in mosques. There are instructions such as 'Do not leave your house, do not break your men's word.' They must stop using this vulgar and masculine language. The dirty war is the primary cause of this cycle of bloodshed. If this war ends, the violence will end too. We don't want war anymore. We stage a march, and they put an army on our tail. We are mothers. Are you afraid of our white veil? Enough is enough."
Women also made a statement regarding the November 25, International Day for the Elimination of Violence Against Women.