Kongra Star calls for international action against deadly Turkish attacks
Kongra Star condemned Turkey's increasingly ongoing attacks on North and East Syria, saying that the attacks aimed to destroy the achievements of the Rojava Revolution.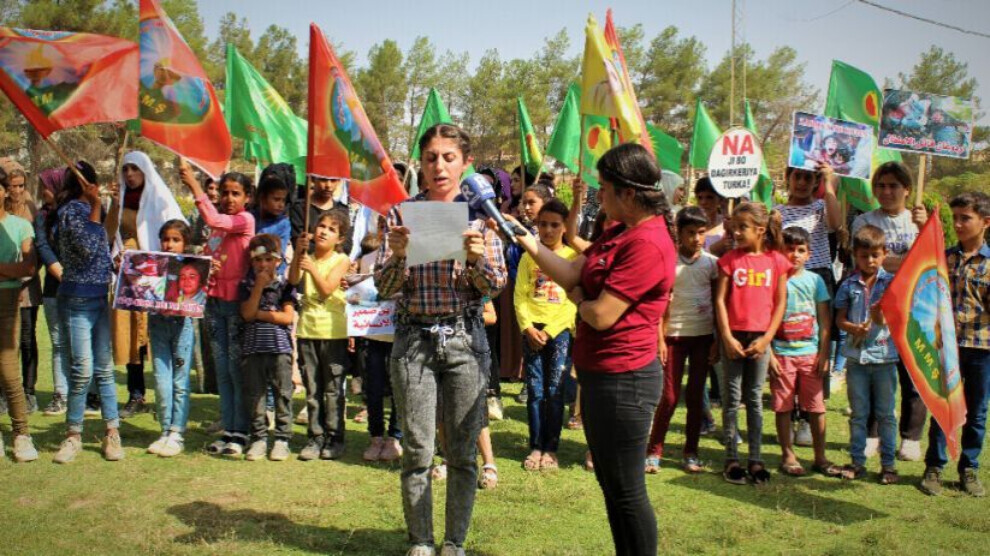 As Turkey's airstrikes against North and East Syria continue increasingly, Turkish aircraft struck a girls' education center under the protection of the United Nations (UN) in Shemoka village, which is located between Til Temir and Hesekê on August 18. Four children were killed and eleven others were injured in the Turkish attack.
Members of the women's umbrella organization in North-East Syria, Kongra Star, made a statement outside the Martyrs' Families Institution in Til Temir district of Hesekê city in the company of the Youth Committee and the Culture and Art Committee. Zehra Emin, a member of the Education Committee, read out the statement.
'International Coalition is responsible for the attack'
Emin remarked that Turkey pointed to Turkey's recently escalated airstrikes and ground attacks against North and East Syria, citing the deadly bombing of a UN-sponsored girls' school on August 18. "These attacks took place following the Sochi talks between Turkish President Recep Tayyip Erdogan and his Russian counterpart Putin. It is understood that the Turkish attacks were carried out in cooperation with Russia. On the other hand, the International Coalition is also responsible and to blame for this deadly attack," she said.
'Their objective is to complete the occupation'
Emin called for the International Coalition to close its airspace, saying, "The International Coalition statement concerning the attack on the girls' school was quite unremarkable. A single statement is not enough. The International Coalition should close its airspace to Turkey. The targeted Turkish attacks defy all moral and legal grounds. The main objective is to complete the invasion launched by the partners of the Turkish state."
'Stop cooperation with Turkey'
"Targeting young people is a new policy introduced in the region. They want to ostracize young people from the region. They want to pave the way for a migration flux into the West and Europe. Since young people are the foundation of society, they want to break the will of the youth. However, our youth are very conscious, and they can frustrate attacks. The International Coalition should close the airspace to Turkey. We also urge the international community, the UN, and child rights organizations to break their silence and stop cooperation with the invading Turkish state," she said.
'We need to organize more'
Speaking after, Social Committee member Zêrîn Hecî pointed out that the young people living in the region were forced to migrate as the achievements of the Rojava Revolution come under Turkish attacks. "The Treaty of Lausanne is about the expire. We need to organize and resist even more to preserve our achievements and make them permanent," Hecî said.