Jina Mahsa Amini laid to rest as protests continue
A young Kurdish woman, Jina Mahsa Amini, who died after being arrested by the Iranian moral police, was buried in Seqiz, where thousands of people paid their last respects. Protests that broke out after the funeral were violently repressed.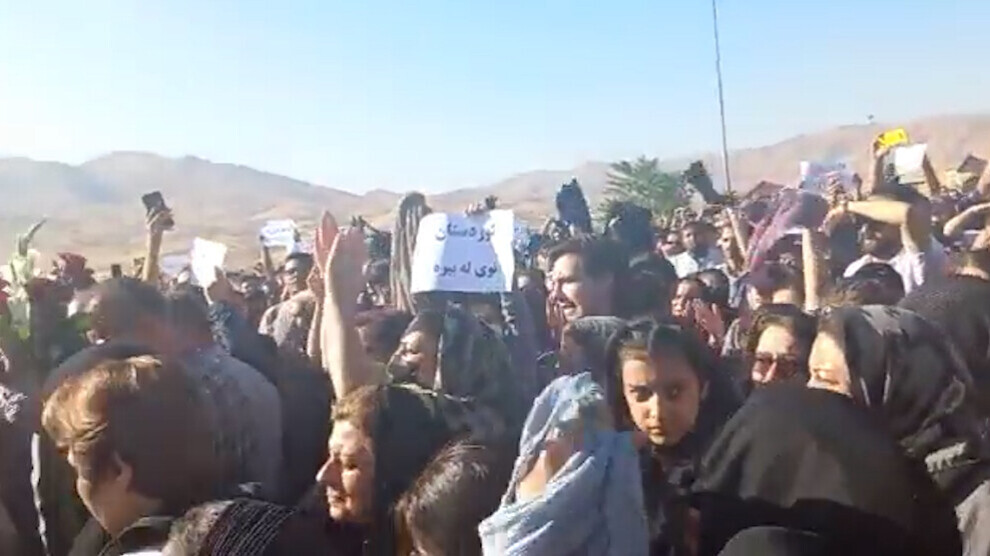 "Jin, Jiyan, Azadî" - women, life, freedom echoed on Saturday at the Ayçi cemetery in Seqiz (Saqqez) in East Kurdistan. Shocked but determined, relatives and acquaintances said goodbye to Jina Mahsa Amini, the 22-year-old Kurdish woman who died in a Tehran hospital on Friday after being arrested by the Iranian moral squad.
Several thousand people gathered around her grave, many women tore off their headscarves and shouted: "We will not forgive. We will not forget. Death to the Dictator" – a reference to the "Supreme Leader" Ali Khamenei, Iran's political and religious leader since 1989.
Regime security forces wanted to prevent the young woman's funeral from turning into a mass demonstration and threatened her parents with repressive measures. "The authorities even demanded that the funeral be carried out without any ceremony and behind closed doors. We were able to prevent that," said Soma Rostami of Hengaw, a Kurdish human rights organization. The reason given for preventing the funeral was that they wanted to avoid "tensions".
Jina Mahsa Amini was arrested by the so-called moral and religious police on Tuesday during a family visit in the Iranian capital Tehran because she did not wear her hijab as prescribed. At a police station, "awareness and training measures" were to be carried out on the dress code. According to the police, she fainted there due to heart failure and then fell into a coma. Her death was confirmed on Friday.
However, the account of the circumstances surrounding the death of Amini's family differs significantly from the official version. The young woman was arrested in the presence of her brother because her headscarf was not properly fixed and a few strands of hair were visible. According to further information, Jina Mahsa Amini was hit on the head after the arrest, which led to a brain haemorrhage, a coma and ultimately - already on Tuesday - to her death. The Iranian police vehemently rejected this account and tried to prove their version with unverifiable video recordings.

After Jina Mahsa Amini's funeral, an angry crowd marched in Seqiz in front of the governor's office and demanded that those responsible for the 22-year-old's death be punished. Posters with Khamenei's portraits were torn from billboards in many parts of the city. Iranian police fired tear gas shells at the people, and according to Hengaw, at least 13 people were injured, including two minors and three women. A demonstrator was hit by a bullet in the head and collapsed, covered in blood. According to the human rights organization, his condition is extremely critical. Protesters managed to share numerous videos on social media. Civil society organizations have, meanwhile, called for a general strike throughout East Kurdistan.
Dress codes are violently enforced 
Iran has had strict dress codes for women since the 1979 Islamic Revolution. For just as long, however, women, especially in the metropolises, ignored them - much to the annoyance of ultra-conservative politicians. The government in Tehran and the hardliners in parliament have been trying for months to enforce Islamic laws more strictly. The moral police sometimes use force to ensure the dress codes are followed, which has led to protests and defiant reactions from women in recent weeks.