Halime Bayram: We will increase our resistance
Kurdish women's movement TJA activist, Halime Bayram, underlined that the femicides of Jina Amini and Nagihan Akarsel continue to be a reason to further strengthen the resistance against the male-dominated system.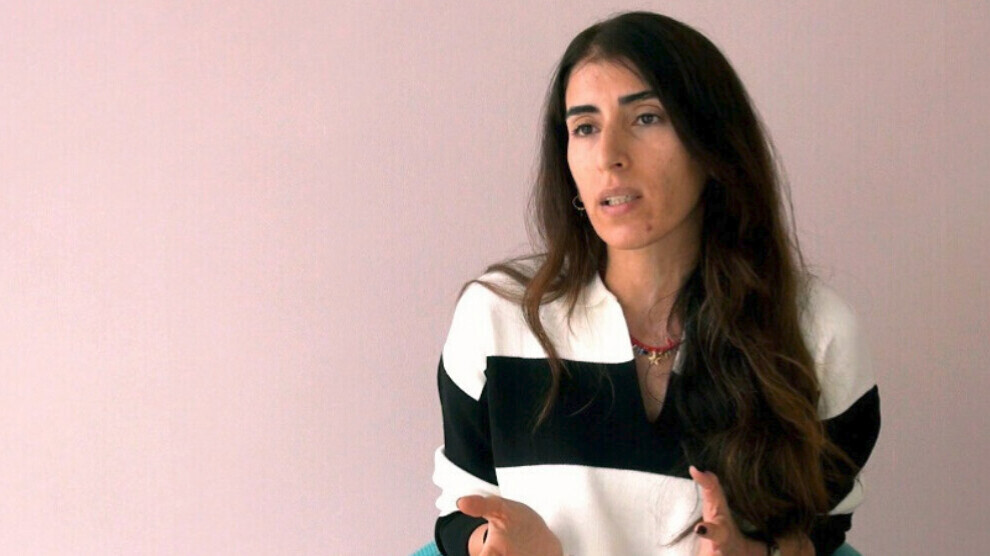 The resistance of women's movements against patriarchal and misogynistic systems of rule, which can still be felt around the world, is suppressed through massacres and other intimidation measures. In particular, state repression against Kurdish women is increasing. In the past few days, two Kurdish women have been murdered in Iran and South Kurdistan: Jina Mahsa Amini, who was in Tehran to visit relatives, was arrested and tortured by the "morality police" because she was said to have violated the strict country's dress code. The 22-year-old died as a result of severe beating.
The second femicide victim was Kurdish academic Nagihan Akarsel, member of the Jineolojî Academy and editor of the journal Jineolojî, in the southern Kurdish city of Sulaymaniyah. The killers shot Akarsel eleven times. There are many indications that the Turkish secret service was behind the killing.
Halime Bayram, activist of the women's movement TJA (Tevgera Jinên Azad - TJA, Free Women's Movement), assessed the background of these attacks and the repression against Kurdish women. With regard to the popular uprising in Iran and East Kurdistan, Bayram said that after the assassination of Jina Mahsa Amini, the women there rebelled against a despotic, male-dominated regime. "It is important to emphasize that all sections of society are also involved in the uprising. Above all, the fact that this resistance led by women is not hushed up gives courage to social resistance."
Both Kurdish and Iranian women reject the system
Bayram said that the resistance that arose under the leadership of women in Iran and East Kurdistan is a sign that women have never accepted the patriarchal system. They have proven once again that they have never come to terms with the existing systems.
Male dominance is hanging by a thread
Women will not stop expressing their resistance on the streets and squares and insisting on their right to organize themselves, Bayram explained, adding: "From now on, the legitimate resistance will continue without a break in all areas. This uprising has once again made it clear that the power of the patriarchal system is hanging by a thread. The Kurdish women's movement stands for women's freedom in general. Its basic philosophy, Free Women for a Free Society, has taken ground and grown like an avalanche, reaching every woman in the world. The Kurdish women's movement fights against the persecution of women around the world. To this day it has not remained silent about any death of women."
The Kurdish women's rebellion
Bayram noted that the Kurdish women's movement rebellion that developed after the killing of Jina Mahsa Amini was taken up by women around the world. "The Kurdish women's movement sees this femicide as a reason for rebellion. It sees in women the determination to overthrow the despotic, misogynist, nation-state systems. With this uprising, the Kurdish women's movement reaffirms its determination to expand the struggle of women around the world by turning this rebellion into an international resistance. It welcomes the developing women's revolt, views each woman's resistance as her own struggle, and takes its own part in resisting this revolt. The resistance and the rebellion on the streets and squares is constantly growing."
Bayram also paid tribute to the academic Nagihan Akarsel, who was murdered on October 4 in Sulaymaniyah in an attack with the alleged involvement of MIT and the political leadership of South Kurdistan. "Nagihan – she said - was a member of the Center for Jineolojî, journalist, scientist and politician. Besides all these valuable identities, her most significant identity was the life she devoted to the struggle for women's liberation. This attack against a woman who dedicated her life to the struggle for women's revolution and women's science is an attack on all Kurdish women, their struggle, their spirit of resistance. This attack should not be seen only as an attack on the Kurdish women's movement."