Başaran: The state has become the main enemy of women
HDP Women's Assembly Spokesperson Ayşe Acar Başaran said, "The state has become the main enemy of women."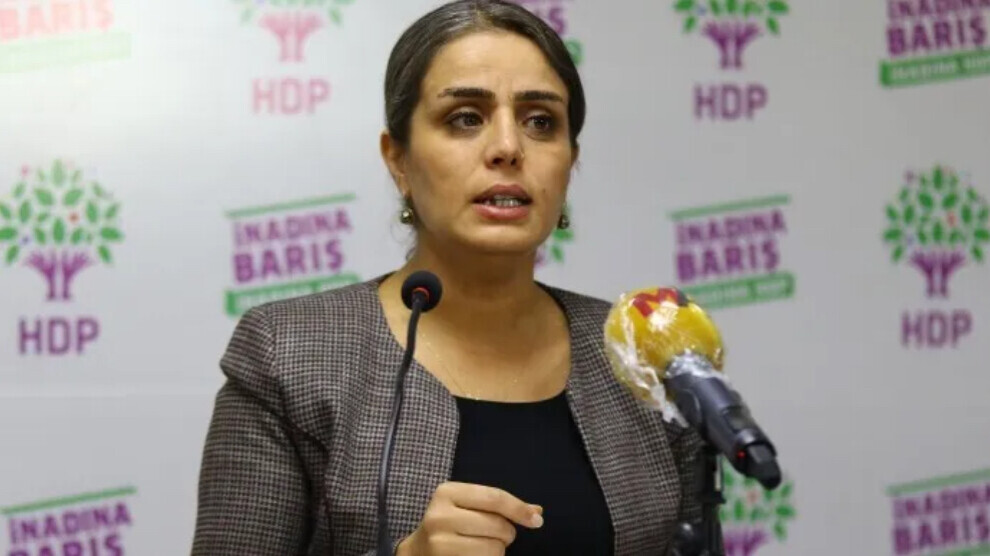 Ayşe Acar Başaran, the Women's Assembly Spokesperson for the Peoples' Democratic Party (HDP), held a press conference at her party's headquarters to assess the developments on the agenda.
Başaran also discussed TJA Term Spokesperson Ayşe Gökkan's 30-year prison sentence, the economic collapse, and the budget talks with women.
Noting that the final hearing in the case of the Suruç Massacre has been held, Başaran said, "The perpetrators of all massacres committed under policies of impunity have been found unguilty. We want to emphasize once more that we will not give up the fight for justice. We will continue to strive for justice against those who were involved in the atrocity as well as the criminals."
'TURKISH JUDICIARY AND THE STATE PROTECT MURDERERS'
Stating that femicide and violence against women are continuing, Başaran continued her words as follows:
"We know the data from what is represented in the public and covered by the press since the Ministry of Family and Social Policies, unfortunately, does not announce the statistics. According to the reports and women's organizations, 234 women were murdered in the first ten months of 2021. In KYK dormitory in İzmir, women were barred from wearing pajamas because men were uncomfortable. In Diyarbakır, when a child left school to head home, she was sexually abused by a man named V.B. and of course, as usual, V.B has been released like other perpetrators because there was "no contact", as decided by the judiciary which always protects men.
Despite her health issues, Mevlüde Akgün, who acted in self-defense, has not been released from prison. The Supreme Court heard the case of Çilem Doğan, who was systematically assaulted and repeatedly sought for benefits under Law No. 6284. Çilem Doğan was given a 15-year sentence. The judiciary did not surprise us one more time. Çilem Doğan requested that the sentence be upheld. We maintain to state that the judiciary is a sexist and male-dominated institution. From its military to the judiciary system, the state has become male-dominated that has turned against women.
We will not abandon this contract which protects women from misogynist forces and brutality. We will work to keep women from becoming more vulnerable and trapped in the cycle of abuse. Recently, the Moldovan Parliament approved the Istanbul Convention. This is a commonly accepted convention. We will not give up on the Istanbul Convention, whether in the fields, squares, or the parliamentary platforms. We will keep fighting for its implementation."