'100 Reasons' campaign lands at 48th UN session on Human Rights in Geneva
A panel and press conference about the '100 Reasons' campaign launched by the Kurdish women's movement for the prosecution of Turkish President Recep Tayyip Erdogan will be held at the 48th UN session on Human Rights in Geneva.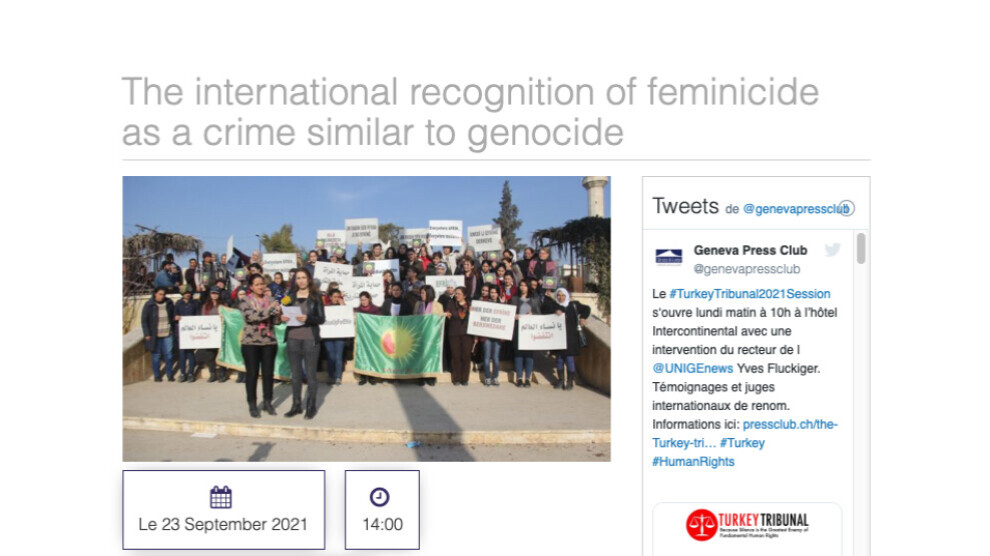 The panel will take place on 23 September at the Swiss Press Club. The panel supports the main demand for "the international recognition of femicides as genocide" and is organized by the European Kurdish Women's Movement (TJK-E) and the non-governmental organization MAAT for Peace.
The event was officially included in the 48th human rights session of the UN that will take place from 13 September to 8 October.
Some 235,000 signatures were collected within the framework of the "100 Reasons" campaign.
The purpose of the campaign was to "put the dictator [Erdogan] on trial. We will demand femicide to be recognised as genocide. In this framework, we are carrying out work to expose femicides and prosecute criminals. In Afrin, for example, we expose the killing of women and the crimes carried out under Turkish occupation by the Turkish state and the mercenaries it supports.
In the panel, war crimes and ethnic cleansing committed by the Turkish state, especially in Afrin, will be evaluated by Asya Abdullah from Kongreya Star Coordination.
TJK-E international relations spokesperson Melike Yaşar will explain the next steps of the campaign.
The panel will also listen to the testimonies of two women who managed to escape from the hands of the Turkish state and its mercenaries.
Ann-Kristin Sjöberg, who has been researching mainly in Colombia, Iran, Iraq, Turkey and Syria for many years, Marion Böker, an expert on human rights and gender issues, and Manuela Honneger, who contributes to social organizations in North Africa, will also speak at the panel.