Youth of Cindires hold a torch march for Öcalan
Youths staged a torch march for Kurdish leader Abdullah Öcalan in Cindires district of Afrin canton.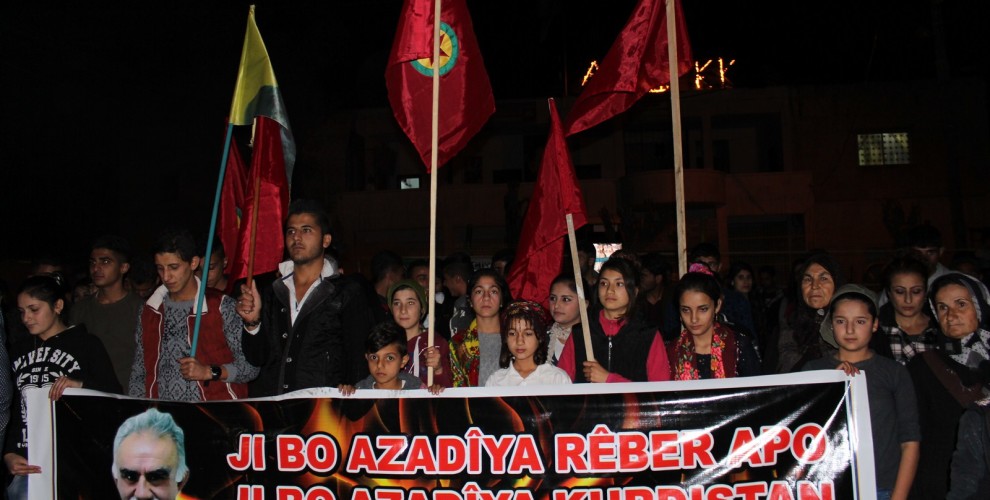 On October 30th, Komalen Ciwan (Communities of Youth) and Komalen Jinen Ciwan (Communities of Young Women) launched a campaign named "Serî Hilde" [Rise Up] in order to raise awareness about the isolation on Kurdish leader Abdullah Öcalan and demand his freedom, resist against Turkish attacks on Rojava and invasion of Southern Kurdistan and celebrate 40th anniversary of PKK. The campaign will last until the Newroz, March 21, of 2018.
As part of the campaign, Rojava Youth's Union (YCR) members staged a torch march for Abdullah Öcalan in Cindires, a district of Afrin canton in Northern Syria.
Holding up TEV-DEM (Democratic Society Movement), YCR and Young Women Union's flags, the youths started their march on the outskirt of the city. The group then lit up torches and marched to the People's House in the city centre.
After observing one-minute silence to show respect for the martyrs, the statement of the youth was read out: "We condemn the isolation on Öcalan. The Turkish state wants to distract us from Öcalan's philosophy but the oppression won't affect us, because with Öcalan's philosophy our will is now stronger."
The demonstrators called on all youths to join the revolution and fight against the systems of invading states.