First YCR battalion formed in Efrîn
The first battalion of Rojava Youth Union (Yekitiye Ciwanen Rojava -YCR) has been formed in the Efrîn's Cindirêsê district with a ceremony.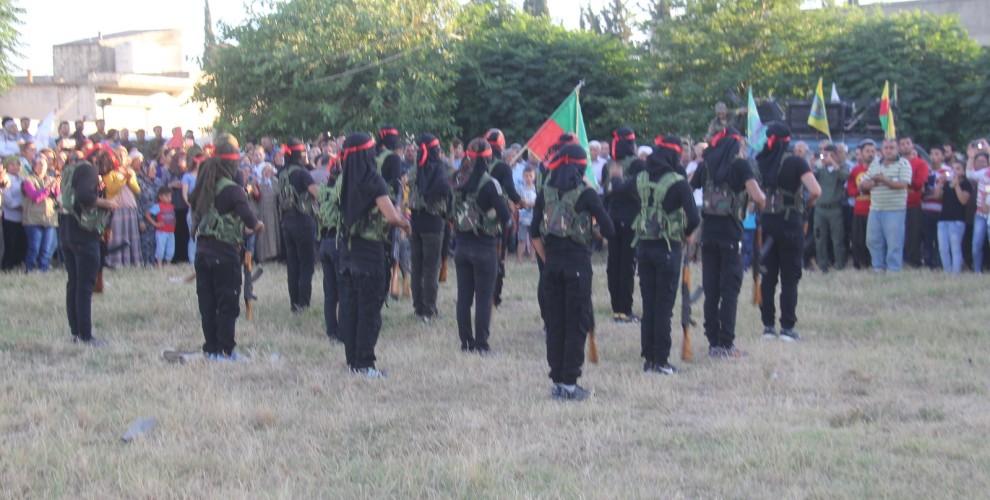 As part of a maneuver launched with the motto, "The country is our country, vengeance is our oath", 20 members of the Rojava Youth Union in Efrîn Canton's Cindirese district have formed their first military battalion they named "Tabûra Shehîdên Qereçox" [Battalion of Karachok Martyrs]. The ceremony was held in the People's Leader Abdullah Öcalan Gardens.
YCR administration, TEV-DEM members, Kongreya Star members and the people of Cindirêsê attended the ceremony. The park the ceremony was held in was adorned with posters of Öcalan and TEV-DEM and YCR flags.
Battalion members commenced the ceremony, then Cindirêsê YCR Administrator Delar Dijwar spoke on the battalion and the process and saidThe mission of this military battalion is to stand against the invading Turkish Army's attacks on the region, they are to stop any and all attacks on the Canton.
Cindirêsê YPG Commander Manî Egîd also spoke and said that the youth standing with the YPG and YPJ is a great step.
The ceremony ended with slogans saluting the resistance of the YPG/YPJ and the youth.