Election enthusiasm in Northern Syria
The local elections in Northern Syria continue with enthusiasm and intense interest, witnessing colorful scenes as people go to the ballots to determine their local elections.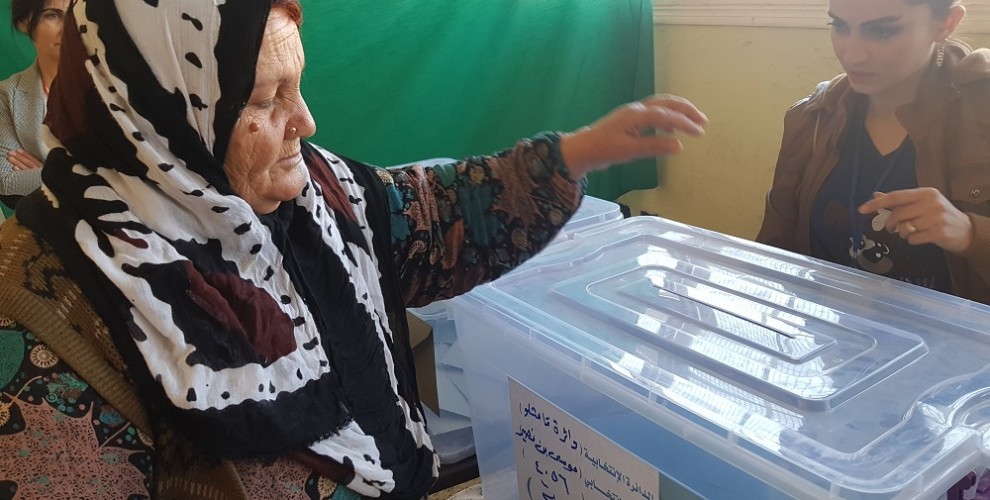 People of Northern Syria started going to polling stations as of early Friday morning as voting process began for town, district and canton councils.
Also the elderly and sick citizens go to the ballots for the voting that is taking place with immense excitement with an apparently high rate of participation from the peoples of the region.
More than 800,000 people are eligible to vote today, constituting an increase by 100,000 people in comparison to the commune elections of September 22.
The voting process is taking place in a festivity atmosphere as people go to polls in mass to determine their administration and future.
Women on their way to a polling station in Qamishlo's Xerbi neighborhood, chanting "şehit namirin" (martyrs are immortal) reminds once again of the fact that today's environment of peace and trust exists thanks to those who sacrificed their lives during the six uninterrupted years of battle against the gangs.
A total of 10,825 ballot officers serve at 1303 polling stations in Cizîr, Euphrates and Efrîn regions of Northern Syria, providing assistance to the peoples of the region during the voting. The elections are observed by delegations from Patriotic Union of Kurdistan (PUK), Peoples' Democratic Party (HDP), Kurdistan Democratic Party (KDP), Gorran (Change) Movement, Vote and Beyond (Oy ve Ötesi) and civil society organisations from Turkey.
Today's voting in Northern Syria sets an example of democracy to the peoples of the Middle East and could change the destiny of the region as peoples are going to polls to determine their administration with their free will for the first time, opening the way for a resolution amid the ongoing crisis in the Middle East that has been ruled by dictatorship regimes so far.
The equal representation for women and 40% quota for ethnic, religious and cultural communities sets an unprecedented practice of democracy in the region.
Voting began at 08.00 this morning and continue until 20.00. If the High Election Commissary sees fit, voting could be extended until midnight the same day the latest.