Efrîn will duly respond to the invaders
Nûjîn Dêrik from YPJ Efrîn Command said that with the latest dispatch, the Turkish state is preparing to invade Efrîn even if they are left completely alone, and that they are prepared to give the necessary response.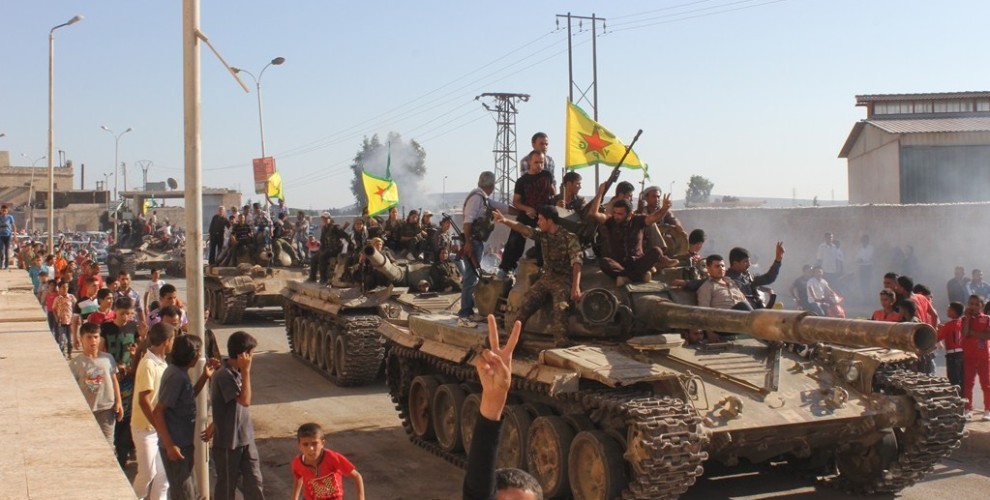 Nûjîn Dêrik from YPJ Efrîn Command thinks the AKP-led Turkish state intensifying the dispatch of tanks, artilleries, armored vehicles, soldiers and gang members to the region over Azaz is a sign that they are preparing for an attack that surpasses the current one on Efrîn and Shehba. She said: "We have put forth all our resources. We are prepared to duly respond to any and all attacks. It has been proven that no force can defeat or end us.
As Turkey's invasion movement on Northern Syria centering on Rojava launched on August 24, 2016 continues, military dispatching has intensified in the last week. The Turkish state under Erdoğan's rule had their plans foiled with the Great Battle to liberate Raqqa launched by the YPG-led SDF with support from the US-led International Coalition and this latest military dispatch is seen as an attempt at a more extensive invasion on Efrîn and Shehba with the Baath regime's, Iran's and Russia's approval. Nûjîn Dêrik from Efrîn Canton YPJ Command answered the ANF's questions on the matter.
According to information provided by Nûjîn Dêrik confirming the Turkish state's preparations to attack Efrîn and Shehba, the Turkish state has been stationing armored vehicles, tanks, Howitzers and considerably large number of troops to the Azaz, Mare and Rai side for the last couple of days. Their goal is to attack Efrîn from the line from Azaz and Mare to Qastel. The gangs they formed and nurtured under the "Euphrates Shield" will also be providing support. Howitzers, mortars, tanks and other heavy weapons have continuously been arriving in the area for the last days. There is an ongoing heavy attack from the Shehba line and there have been many attempts at infiltration.
CONCERN OVER A FREE RAQQA

Nûjîn Dêrik stated that the Turkish state went into a panic when the International Coalition announced support for the SDF preparing to liberate Raqqa from ISIS invasion and they moved all their focus to Shehba and Efrîn because they were blocked in Manbij and Girê Spî and added that they accelerated the invasion attempt as Raqqa drew closer to liberation. YPJ Commander Derîk said any and all evil was to be expected from the Turkish state as they want to prevent the SDF victory in Raqqa, and added that Idlib had been included in the "safe zone" because it shares a border with Efrîn.
FROM JARABLUS TO IDLIB

Nûjîn Dêrik reiterated that the Turkish state wasn't satisfied with their proxy gangs from the beginning and wanted to be in Idlib themselves, and stressed that they want to connect İskenderun and this area and set up a line by opening a corridor from Jarablus to Idlib.

THEY CAN ATTACK EFRÎN ON THEIR OWN
Nûjîn Derîk said that the Turkish state formed a gang named "The Homeowner" to create legitimacy for their attacks on Northern Syria in the most recent process and added that she doesn't think this will gain traction in the international area. But, stressed Commander Dêrik, she believes that "the Turkish state can launch such an attack, whether it's legitimate or not."
SUPPORT FROM RUSSIA BLOC UNSURE

YPJ Commander Dêrik stated that they don't currently have the data to claim Iran, Russia and Syria are partners to Turkey's plans to attack Efrîn, but they are certain that the Turkish state will do anything to void the Raqqa operation.
CLOSING OFF THE ALEPPO ROAD

Nûjîn Dêrik said they believe the Baath regime closing off the Aleppo road for some time now is a temporary problem and added: "This is a day to day issue. We don't consider it very serious or permanent. This has come about due to Raqqa, but our efforts and discussions to resolve it continue. I'm hoping it will be figured out soon."
THEY ATTACK DAILY

Nûjîn Dêrik said the Turkish army and their allied gangs attack daily, but they also received the necessary response, and pointed out that the Turkish President Erdoğan has been targeting Rojava and Northern Syria again since Friday. She added: "The Turkish side continues to sing the 'we will never allow' song. And as long as we are alive, we won't ever allow anybody to prevent the liberation of Northern Syria. We are prepared to pay any price for this."
WE ARE STRONG ENOUGH TO VOID THIS

Efrîn Canton YPJ Command member Nûjîn Dêrik stated that they are prepared for the Turkish state attacks and continued: "Our forces have taken their positions on the line of defense. We have put forth all our resources. As the Al Akrad Front forces, the YPG and the YPJ, we are ready to retaliate any and all attacks coming our way. With all our forces, and the resistance of all our people led by the women and the youth, we will void the fascist Turkish state's attacks. We have full confidence in ourselves and our people. And the AKP-led Turkish state should know that whatever they do, they won't prevail. We are strong enough to void all their attacks."