Canadian YPG fighter Ararat bid farewell
Canadian YPG fighter Agiri Ararat's body has been sent to Bashurê Kurdistan to be transported back to his country.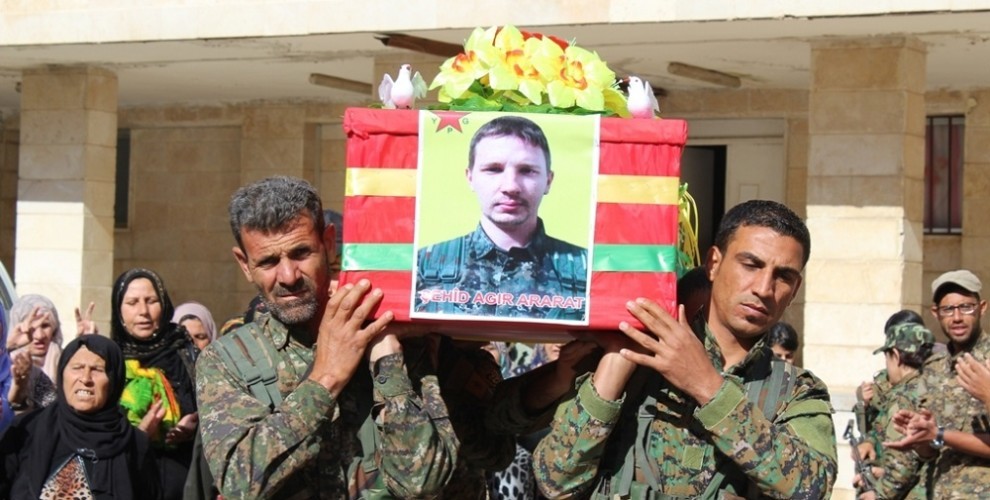 Canadian YPG fighter Antonio Cassun (Agiri Ararat) had lost his life in the Wrath of Euphrates Operation, and the people of Derik bid farewell to his body from the Semalka border to be taken into Bashurê (Southern) Kurdistan. Antonio Cassun's (Agiri Ararat) body will be transported back to Canada to be buried there.
YPG fighter Agiri Ararat's body was taken from the Derik Hospital with chants by the martyrs' mothers and the people. Ararat's coffin was draped with the YPG flag and roses, and a dove was left on the coffin to represent freedom. Then the body was taken to the Semalka Border Gate between Rojava and Bashurê Kurdistan.
The ceremony for Martyr Agiri Ararat started with a minute's silence. YPG fighter Baran Amed spoke in the ceremony in the name of the Internationalist fighters. Amed offered his condolences to Martyr Agiri's family and said his comrades will follow in his footsteps.
Amed said Martyr Agiri Ararat was impressed by the Kobanê resistance and the YPG and YPJ fighters and turned to face the war zones, to join the YPG and fight against the gangs for the freedom of peoples.
After the speeches, Canadian fighter Agiri Ararat's martyrdom document was read and handed to his comrades.
Agiri Ararat's body will be received by the Canadian Consulate in Bashurê Kurdistan and taken to Canada.