YPG International: 3 years of occupation, 3 years of resistance in Afrin
In a statement the YPG International reminded that "various internationalists also took their place in the resistance of Afrin.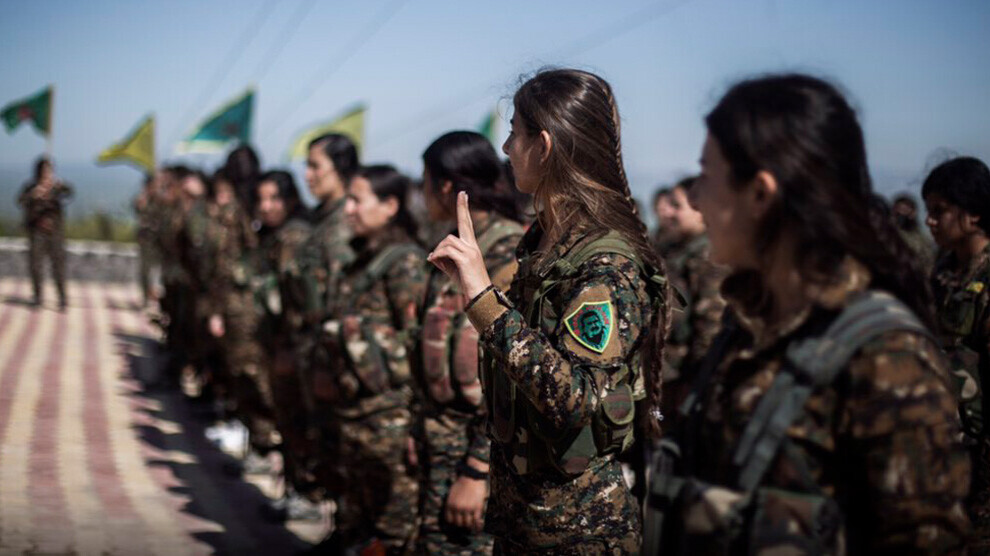 In January 2018, the Turkish state under Erdogan's government began the so-called "Operation Olive Branch" with the support of thousands of jihadist mercenaries. The ideological alliance between MHP and AKP government and Islamists was opposed by the People's Protection Units and the Women's protection Units -YPG and YPJ- in a heroic resistance which lasted over two months.
Afrin was one of the most peaceful areas in Syria. It was largely spared from active war until the invasion began. Afrin was also one of the areas where social organization based on the ideas of Abdullah Öcalan had made great strides. Grassroots democracy, communal life, ecological projects and the liberation of women were actively and succesfully brought to life there.
Afrin also became a place of refuge for hundreds of Yazidis who escaped the genocidal terror of the so-called "Islamic State" in 2014 and found a new and, above all, safe home there.
Today Afrin looks like a pile of rubble. The jihadist gangs loot the property of the displaced population and those who have not fled, destroy its environment, destroy and desecrate cultural and historical sites, kidnap and rape women, and forcibly marry young women and minors. With NATO's acceptance, Turkey is committing war crimes targeting the local population with its proxy army, the jihadist coalition known as 'Syrian National Army'. From the very beginning of "Operation Olive Branch" Turkey not only pursued the plan of a short-term military operation, but also pushed for the annexation of the area to Turkey. Today, in Afrin, children are taught according to the Turkish curriculum and ideology, street names and signs have been changed and written in Turkish, the Turkish lira has been introduced as the currency and the Turkish post office is responsible for various logistical tasks. Together with the beginning of the construction of a wall around the occupied territories, it can definitely be said that there is an annexation attempt.
In a statement the YPG International reminded that "various internationalists also took their place in the resistance of Afrin. From all parts of the world, from the most diverse struggles and ideological currents, our comrades participated in the military and civil defense tasks. During this process, our friends Kendal Breizh (Olivier François Jean Le Clainche), Şahin Hüseyni (Haukur Hilmarrson), Hêlîn Qereçox (Anna Campbell) and dozens more of our friends fell as martyrs."
The statement continued: "In Kurdistan we say 'Şehid Namirin' - our martyrs do not die. Our martyrs do not die because we will remember them and continue their struggles and aspirations. Because remembering means fighting and fighting means remembering. For us, 20 January is a day to remember our fallen friends and the reasons that moved them and move us all to join this revolution, to participate in it, to shape it and to defend it. It is a day to remember and to remind ourselves that it is necessary to draw a clear line between us and the enemy, not to forget what has happened and to gain strength from it for the coming months, years and offensives. To remember that we can all take our place in this revolution and contribute to Rojava and the free Democratic Federation of North-East Syria. It does not matter whether we participate in the military or the social works, because here we can also learn and understand: Society can only succeed with defense, and defense can only succeed with society."
The YPG international also underlined that "Rojava is the revolution of all people who participate in it and contribute here with strength and effort. Rojava is the land of all of us and we can experience and realize here a part of what we have always dreamed of: Building a free life. As our comrades before us have done and are still doing day by day in Ain Isa or Til Temir, it is also our task as internationalists to oppose the enemies of the revolution. It is also up to us to expel the occupiers from Efrin, from Rojava, from all of Kurdistan and the Middle East together with the people. It depends on each and every one of us. Today, we also want to remember the many moments of laughter, the difficulties experienced and their communal overcoming with our comrades and shout in the certainty of our victory."