UK Labour and Tory Parties, unionists delegation visited Rojava
A delegation made up of UK Labour and Conservative parties as well as trade union members visited Northern and Eastern Syria.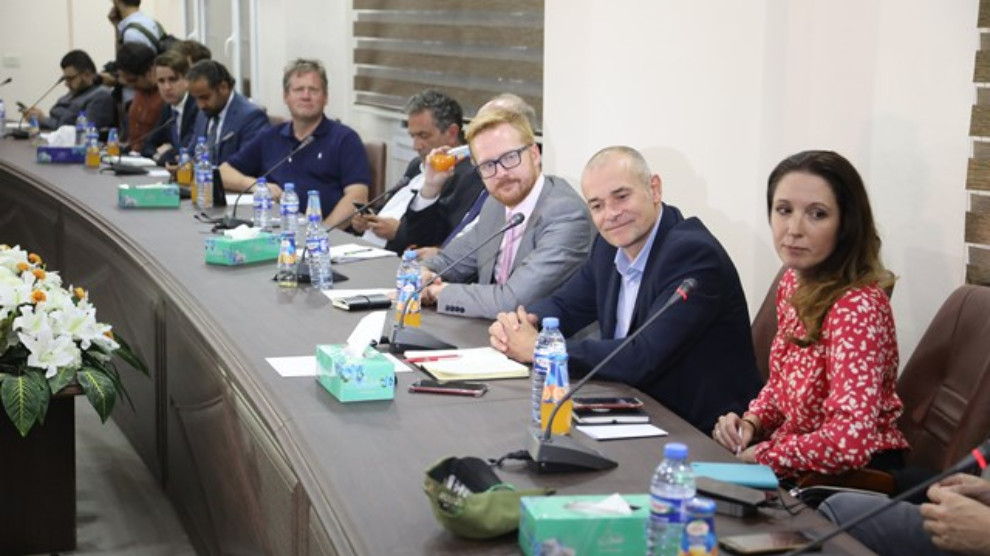 The 13-people delegation includes: British Conservative MP Adam Holloway, UK Labour MP Lloyd Russell-Moyle, Labour Party representatives Maurice Glasman, Ben Norman, Clare Baker, Ryan  Fletcher, Arron Meret, Dan Sabbagh, Bambos Charalambous, Crispin Blunt, Ramadan Tong and Huber Ahmed Osman, UK trade union executive Simon Dubbins.
The British delegation was welcomed by Foreign Relations Office representatives Abdulkerim Omer and Emel Dadê, and office members Fener El Kiyêd and Mizgîn Ehmed in the building of the Northern and Eastern Syria Bureau of Foreign Affairs Relations in Qamishlo.
The first meeting was closed to the press and was followed by a joint press conference held by Emel Dadê and Labor Party MP Lloyd Russell-Moyle.
Emel Dadê: We have talked about many issues
Emel Dadê said: "During the meeting, we evaluated many issues related to the region, including the difficulties experienced by the Autonomous Administration and the military forces in rescuing people, and the following problems with refugees.
We thoroughly discussed the issue of the families and children of ISIS mercenaries and their impact on the region. We also discussed the danger posed by the ISIS members imprisoned and the importance of the local prosecution for the crime they committed. We discussed how the Autonomous Administration will be received in the new Syrian constitution and the importance of it and the human rights violations in the canton of Afrin."
Russell-Moyle: The people of the region protected the world
Lloyd Russell-Moyle MP said: "We visited these areas as Labor Party and the Conservative Party delegation, Britain's two major parties. Experts, representatives and researchers from different fields accompany us during our visit.
We will present our views on the ISIS members detained here at the UK Parliament. In this regard, we support the establishment of an international court in the region."
The British delegation is expected to visit the North and East Syrian Autonomous Administration in Eyn Îsa today.