Turkish-Russian patrol stoned in Dirbesiye
Rojava people say they do not want the occupation forces on their land.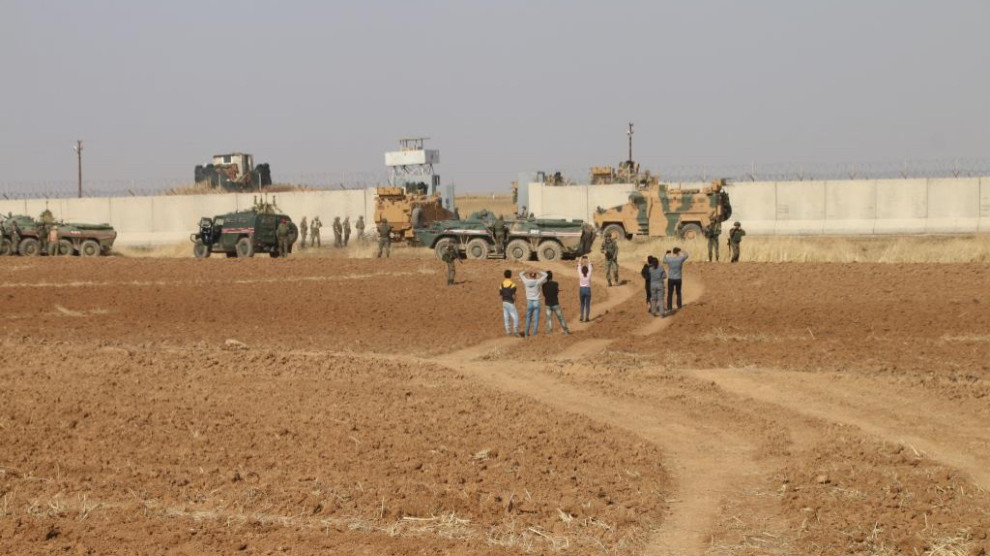 Turkish and the Russian forces have started the 6th joint patrol mission in the village of Shirik 15 km west of the Dirbesiye city Thursday morning. The patrol was accompanied by two Russian helicopters.
People stoned the armored vehicles on patrol, saying that they do not want the occupation forces on their land.
After moving through the villages of Bîrkenîse, Telik, Kerkend, Sîbêrka, Ber Kevirê, Til Kember and Til Kidêş, the patrol tour stopped in the village of Qermani.
The Turkish vehicles joining the patrol convoy retreated to their border after the Qermani village.
On November 12, people of Kobane stoned the Turkish-Russian patrol. The protesting residents were targeted by gunfire opened from the convoy in the village of Kopingare. Eight people were wounded in the attack, including some critically who were hit by live ammunition. Turkish soldiers also opened fire on a vehicle of Kurdish press workers from Jin TV and Ronahi TV. While Jin TV reporter Zozan Remedan Berkel was wounded, the vehicle was heavily damaged.
On November 11, a convoy of the Russian and Turkish military patrol in the west of Dirbêsiyê was stoned by local residents.
On November 8, a Turkish-Russian military convoy patrolling in the canton of Qamishlo between Girkê Legê and Dêrik was attacked by angry people with stones. A young man, Serxwebûn Ali, was killed during the protests and five others were injured.
Earlier, on 5 November, a patrol had been received in Kobanê with stones.