Thousands of Hesekê residents condemn attacks by Turkey
Thousands of Hesekê residents condemned the attacks carried out by the invading Turkish state and its mercenaries with a march they organized and called for the airspace to be closed to Turkish warplanes.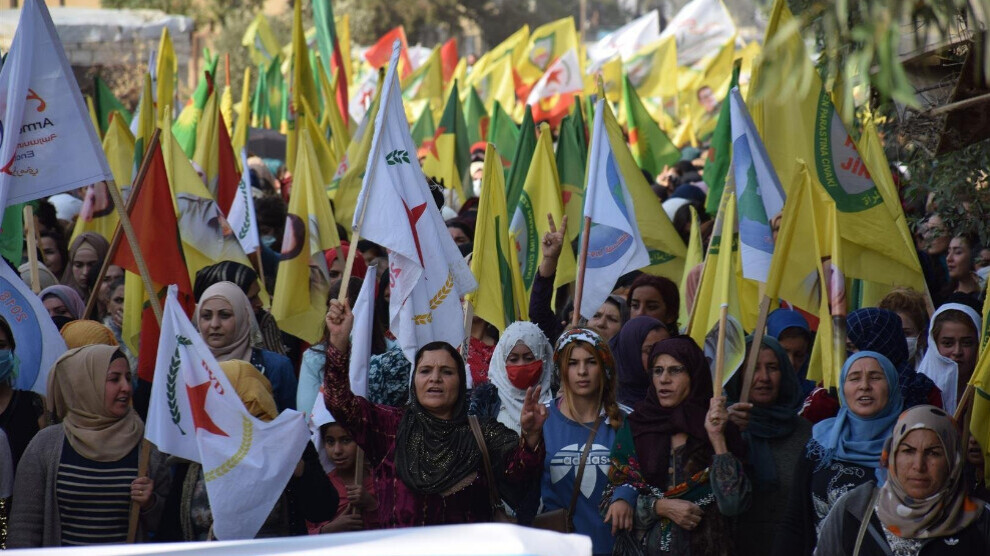 The invading Turkish state's attacks on Northern and Eastern Syria, were protested by thousands of Hesekê residents who also called for the closure of the airspace to Turkish warplanes.
Photographs of martyrs and banners reading 'Close the airspace against Turkish attacks' were carried during the march that started in Önder [President] Abdullah Öcalan park in the neighbourhood of Nasira.
The march ended in Freedom Square. Here, a minute's silence was held in memory of the martyrs of freedom.
Speaking on behalf of the Democratic Union Party (PYD), Hisên Berî said that the peoples of Northern and Eastern Syria will resist all kinds of attacks, will protect their gains and will not give up on their democratic projects.
Hisên Berî said: "The attacks that Erdoğan and his mercenaries want to carry out cannot break the will of the peoples of the region and the resistance based on the ideas and philosophy of Önder Öcalan and Mazlum Doğan."
Hisên Berî called on the Kurdish parties, which serve the invading interests of the Turkish state, to give up this and demanded that they work for the interests of the Kurdish people.
Kongra Star Coordination member Shukriya Mihemed said: "The ongoing threats and attacks on the region prove that the Autonomous Administration and the democratic project in Northern and Eastern Syria are successful. These attacks cannot weaken our resistance and the struggle for our freedom."
Referring to the invading Turkish state's air attacks in Kobanê, Şukriya Mihemed drew attention to the fact that "the strength of the people is being weakened by these attacks. But we will not allow another part of Rojava to be occupied. We will fight for the liberation of Afrin, Serêkaniyê and Girê Spî."
Speakers also demanded to close the airspace to prevent further Turkish attacks.