Thousands in Shehba protested Turkey's attack
Thousands of people protested against the Turkish state's invasion and genocide attacks in Shehba.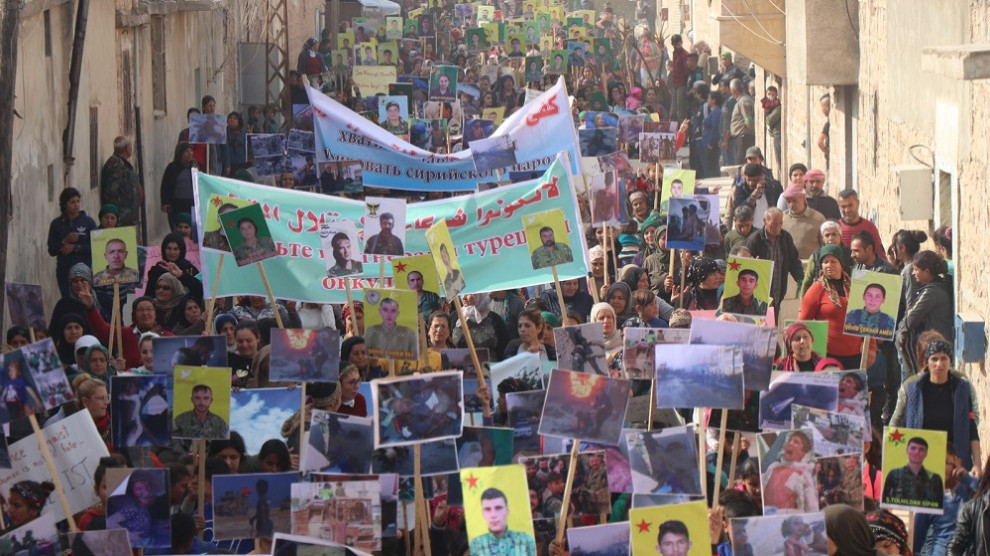 Thousands of people from Afrin took to the streets in Ehdas, Shehba to protest the invasion attacks carried out by theTurkish state and its mercenaries against Northern and Eastern Syria.
The mass gathered in front of Ehdas Train Station and marched to the central park chanting slogans condemning the Turkish attacks against Rojava.
Ehdas Assembly member Sheikh Mûrad said that the gains in Rojava were achieved thanks to the martyrs.
Mûrad said that the external forces are trying to destroy the gains achieved with the blood of the martyrs and said that the attacks were trying to break the peoples living in the region. Underlining that the will of the people and their resistance will not be broken, Mûrad said that the region is undergoing a historical process.
Afrin Democratic Society Education and Training Committee made a statement. "The fascist attacks of the Turkish state continue. - said the statement - The Turkish state, has even used chemical weapons, such as white phosphorus against the population. Yet it could not break thewill of the peoples. All children in the world continue their school these days, while children living in northern and eastern Syria face war. Children are bombed daily by Turkish warplanes. Children who cannot go to school are deprived of the right to education. Five thousand students were deprived of education in Afrin because of the attacks of the Turkish state."
The Afrin Democratic Society Education and Training Committee called "on the whole world on behalf of the children of the Ephocal Resistance. Make our voice heard. Speak up."