Thousands demonstrate in Kobanê for Sakine, Fidan, Leyla
People around the world took to the streets today to demand justice eight years after the murder in Paris of Sakine Cansız, Fidan Doğan and Leyla Şaylemez. Thousands of people took part in a demonstration in Kobanê.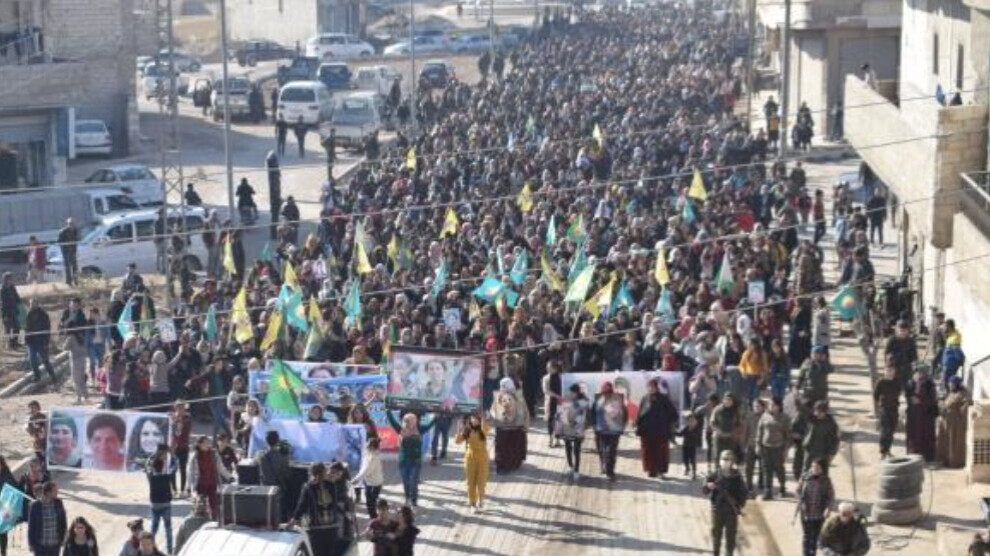 To mark the anniversary of the murders of Sakine Cansız, Fidan Doğan and Leyla Şaylemez by the Turkish secret service in Paris, thousands of people took to the streets in Kobanê today. The demonstration, organized by the women's umbrella organization Kongreya Star, began at the Free Women's Square and led to Martyr Egîd Square, where a solidarity hunger strike for political prisoners in Turkey has been taking place since the beginning of the week.
In addition to the three Kurdish women murdered in Paris, Fatma Uyar, Sêvê Demir and Pakize Nayır, who were killed by the Turkish state in Silopi district of Şırnak in January 2016, were also remembered, as well as all the women revolutionaries murdered in Rojava.
The final rally was opened with a minute of silence. Afterwards, Mizgîn Xelîl from the coordination of Kongreya Star in the Euphrates region gave a speech in which she held the Turkish state responsible for the triple murder in Paris and referred to the role of Sakine Cansız as a founding member of the PKK: "Comrade Sakine fought against the fascist system in all areas of life. The Paris killings were a continuation of the international plot against Abdullah Öcalan. With Heval Sakine, the women's movement has been attacked. This was followed by the attacks in Silopi, the brutal murder of Hevrîn Xelef and the murders of our precious women friends in Helince here in Kobanê. As the attacks become more violent, more and more women are resisting. The murder of Sakine, Fidan and Leyla has led to thousands of women becoming active. Heval Sakine was one of the first women to believe in the philosophy of Abdullah Öcalan and to fight with him. Her struggle is now continued by Leyla Güven and thousands of other imprisoned women. As long as the attacks and occupation continue, we too will continue to resist."