Solidarity visits to the Semalka demonstration continue
The action organised at Semalka border crossing to demand the handover of the bodies of the guerrillas killed as a result of an KDP ambush has been going on for 3 weeks.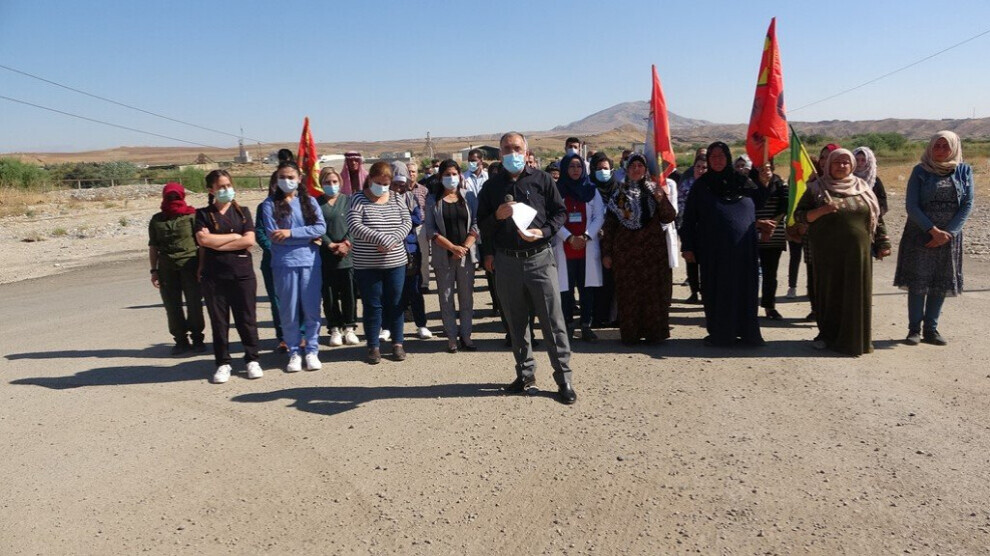 The North and East Syria Doctors and Pharmacists Union took part in the action at the Semalka Border Gate this morning and expressed solidarity with the martyrs' families.
With a vigil at the Sêmalka border crossing near Dêrik, people have been protesting for days against the way the Kurdistan Democratic Party (KDP), which governs Hewlêr (Erbil), deals with the martyrs of the Kurdish liberation movement. The political leadership in southern Kurdistan (kr: Bashur) still refuses to hand over the bodies of Tolhildan Raman and Serdem Cûdî. The guerrilla commander and the fighter were from Rojava and belonged to a seven-member HPG/YJA-Star unit that was ambushed by the KDP in Xelîfan near Hewlêr on the night of August 28-29. Five of the group were killed, and one HPG member was taken prisoner with injuries. Only HPG guerrilla Hakî Zîlan survived.
The vigil at the border crossing between western and southern Kurdistan, which was initiated by the Council of Martyrs' Families from the Cizîrê region, has been running since October 5. The protest tent erected especially for the action is visited daily by quite a few people from various groups and organizations. 
The North and East Syrian Association of Doctors and Pharmacists joined the Semalka demonstration today to express their solidarity with the relatives of martyrs. The co-chair of the association, Dr. Ednan Hiso read a statement on behalf of the group and said, "Alongside the resistance of YPG/YPJ and HPG/YJA Star forces, the resistance of the people against enemies and traitors continues."
The statement emphasized that while the democratic project covering the entire Syrian people defeated the invading Turkish state's policy of denial against the people of the region, some parties, particularly the Barzani family, attack the Kurdish people's gains when they should be fighting against the Turkish state.
Dr. Ednan Hiso remarked that the KDP's actions went beyond treason, condemning it for standing by the Turkish state against the guerrillas.
The statement also saluted the freedom guerrillas and the prisoners that keep their resistance going.