Serêkaniyê IDPs in Washokani Camp protest against the Turkish state
Residents of the Washokani Camp called for the Turkish state to be expelled from all the occupied regions.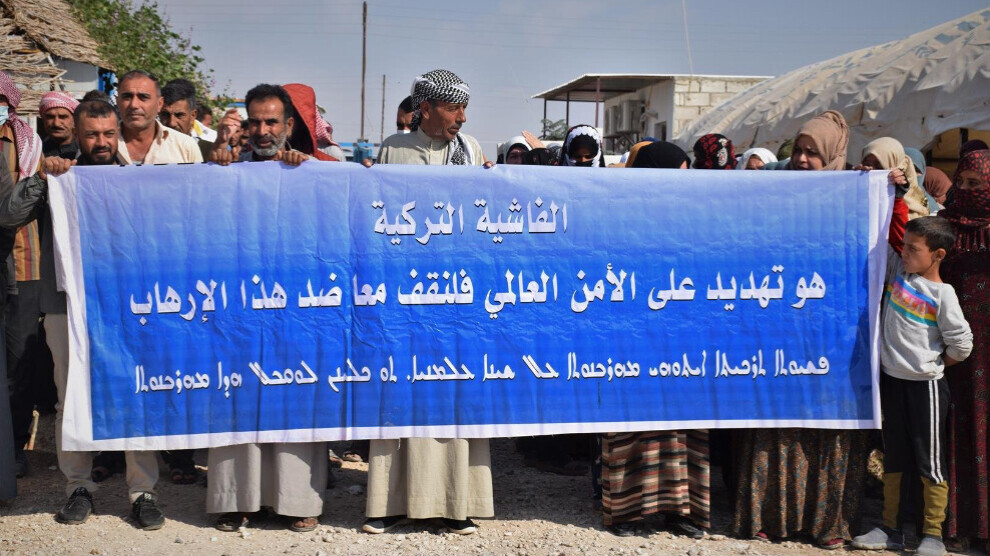 Serêkaniyê residents who had migrated to the Washokani Camp as a result of the Turkish invasion made a press statement urging the International Coalition to take action against the Turkish state.
Elaa Eli, Co-Chair of the Washokani Camp Council, stated that the Turkish state is changing the demographics of the region by replacing locals with the families of ISIS mercenaries.
Elî added that Turkey invaded the territory through gangs, attacked the Syrian people, and transformed the region into ISIS' homeland, pointing out that ISIS has become active again in the regions occupied by the Turkish state.
Prior to the press statement, the SDF Press Center announced that Subahî Al-İbrahîm, the ISIS Shura Council's head and ringleader, was killed in the International Coalition's offensive in the village of Adawniya in Serêkaniyê countryside. According to reports, the coalition targeted ISIS on Tuesday.
Ela Elî, speaking on behalf of the Serêkaniyê immigrants, stated that the International Coalition's targeting of the ISIS ringleader is proof that the Turkish state supports ISIS.
Elî added, "These evidences demonstrate that ISIS is in Serêkaniyê. The International Coalition must combat ISIS gangs in the occupied areas and put an end to the invading Turkish state's occupation of North and East Syria."