SDF disrupts the plans of ISIS in Hesekê
SDF fighters responded with great resistance to the coordinated organized attacks carried out by ISIS and the Turkish state in Hesekê.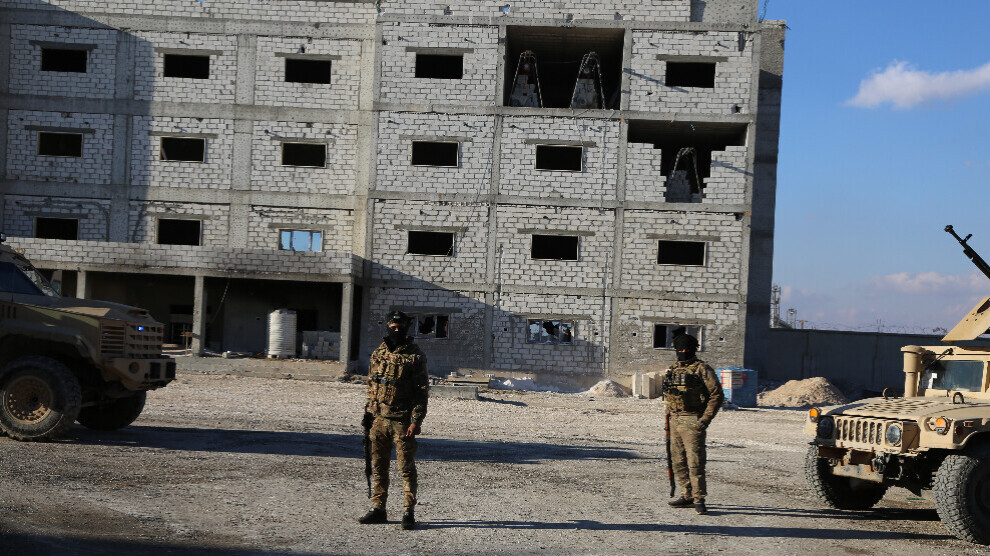 The operation carried out by the Syrian Democratic Forces in the region continues after ISIS mercenaries attacked Sina Prison, where more than 5,000 detainees are held, in the Xiwêran neighbourhood of Hesekê on January 20.
The attack with more than 200 ISIS members infiltrating the region from Serêkaniyê and Girê Spî, which is under the occupation of the Turkish state, and Ramadi, Iraq, was largely foiled by the SDF.
The organized and comprehensive attack by ISIS in Hesekê and the Turkish state in the north was largely foiled thanks to the resistance of SDF fighters both in Hesekê and on the Ain Issa and Til Temir frontlines.
At the beginning of the attack, SDF and Asayish forces surrounded Sina prison and tried to prevent the escape of the prisoners, most of whom were foreign members of ISIS.
A second circle was formed around the Xiwêran and Heyî Zihûr neighbourhoods, and targeted operations were carried out against violent mercenary groups from outside.
The local targeted operations carried out by the SDF against ISIS sleeper cells, especially in the Xiwêran and Heyî Zihûr neighbourhoods, both prevented the attackers from spreading to the city and causing more casualties.
SDF fighters captured around 550 ISIS mercenaries in 6 days of operations, while many mercenaries were killed.
Another issue that the SDF paid attention to was the security of ISIS members under the age of 18 in the prison. They prevented the attack from spreading to the ward where the minors were kept.
These minors, whom ISIS called Eshbalı Xilafe (Future of the Caliphate), were trained as "soldiers" by the mercenaries. Sina Prison administration has opened a separate rehabilitation center for these children.
On the other hand, the personnel taken hostage by the mercenaries were rescued by special operations. On 24 January, 9 workers, and on 25 January another 23 were rescued by special operations.
Continuing their operations in the prison camp, SDF fighters managed to take control of most of it.
First of all, the Faculty of Economics building, where the mercenaries had infiltrated, was cleared, and on Tuesday, 8 buildings and the administration area of the new prison were declared under the control of SDF fighters.
While the search and scanning activities continue in the buildings under control, the operation to take control of the other 3 buildings in which the mercenaries are located also continues.
The SDF is trying to prevent loss of life by frequently calling on the mercenaries to surrender. On the other hand, the treatment of the captured mercenaries continues.
Despite the brutality of the ISIS mercenaries, the SDF keeps its humanitarian approach and is carrying out an operation in accordance to the Geneva Convention on the Law of War to which it is a party.