PYNK:Silence contributes to the attacks of Turkey and mercenaries
PYNK condemned the invading Turkish state's attacks on Ain Issa town and surrounding villages and called on the international community to take practical steps and put an end to Erdogan's attack in the region, especially in Northern and Eastern Syria.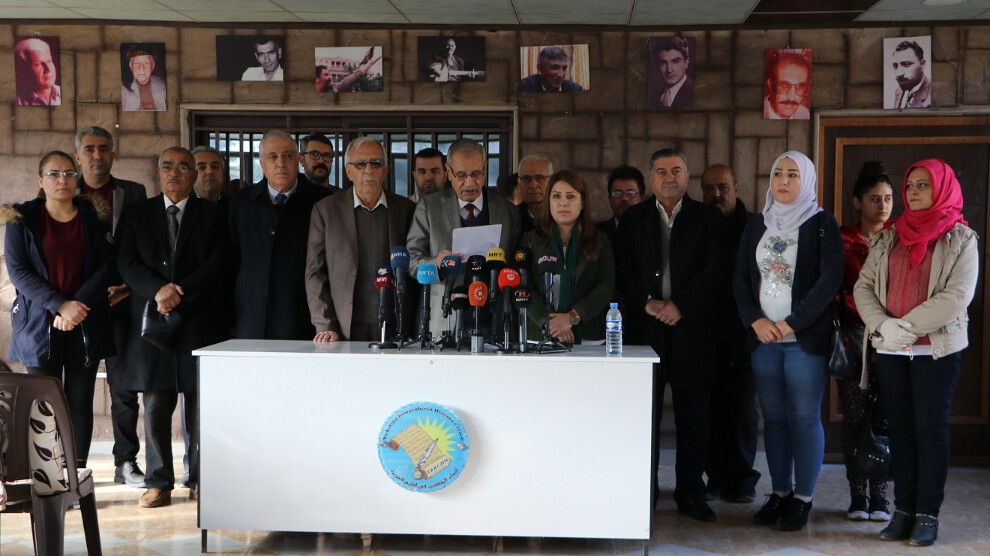 The Parties for Kurdish National Unity (PYNK) condemned the recent attacks on the Ain Issa town and the surrounding villages in a statement regarding the Turkish state's violation of the ceasefire.
Secretary-general of the Syrian Democratic Left Party Salih Gedo read out the statement in Arabic and Secretary of the Kurdish Left Party in Syria Mohammed Musa in Kurdish at the Reading Park in Qamishlo.
The statement included the following:
Since the beginning of November, the invading Turkish army together with its gangs has been attacking Ain Issa and its surroundings with heavy weapons. It is trying to invade new regions in Northern and Eastern Syria that were liberated from ISIS gangs.
The Turkish state violates the ceasefire agreement with these attacks. This raises questions about the agreements between the Turkish state, the United States of America (USA) and Russia. The Turkish state has been violating the agreement from the very beginning as it has been continuing its attacks since the ceasefire declaration. This indicates that the Turkish state and its gangs do not trust the parties involved at the reconciliation and agreement level.
We are aware that the Turkish state intends to invade other parts of Northern and Eastern Syria through these attacks. Therefore, the international community must act quickly and stop the attacks of the Turkish state because statements of condemnation are not enough. Serious and effective attitudes must be adopted against the crimes of the occupying Turkish state such as massacre, forced migration, murder, demographic change and ethnic genocide in the occupied territories.
The silence and irresponsibility of the Damascus government and the international community are prompting the Turkish state to increase its attacks and commit crimes against regional components. The aim of Turkey is to revive ISIS.
We condemn the new wave of attack by the invading Turkish state on Ain Issa and reiterate our confidence in the will of the North and East Syrian components and the military forces of the Syrian Democratic Forces (SDF). We call on the international community to take serious steps and to halt Erdoğan's gangs in the region in general, and in northern and eastern Syria in particular. We say stop the attacks of the invading Turkish army and its gangs (ISIS and Jabhat al-Nusra)."