People take to the streets in Ain Issa to protest the attacks
The Turkish state has increased its genocidal attacks against North-East Syria in an attempt to occupy the entire region in violation of international law but enjoying a global silence.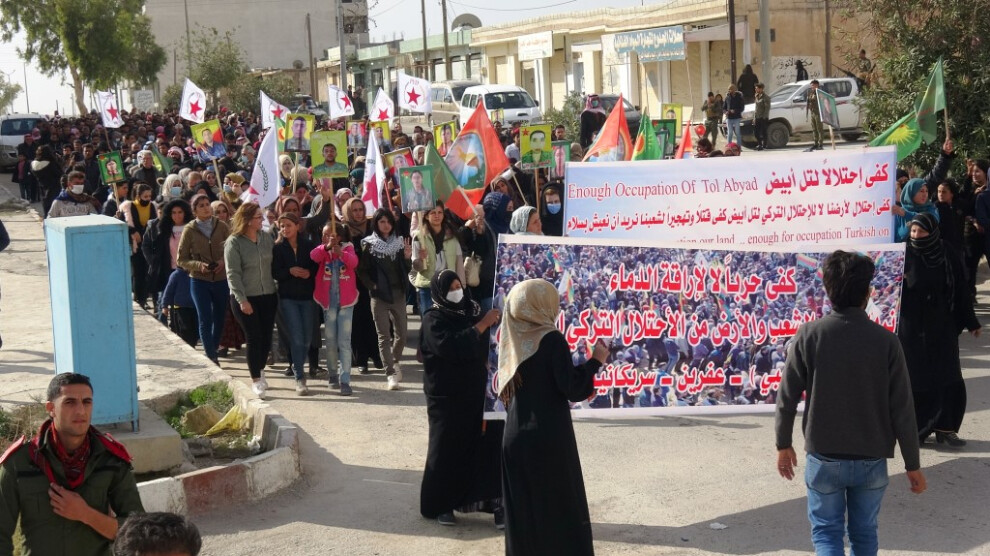 Hundreds of people living in the district of in Ain Issa and its villages held a mass demonstration condemning the recent attacks of the Turkish occupation forces and calling on the international community to stop the abuses.
The demonstration against the recent attacks and random bombardment of the invading Turkish state on safe areas took place from the crossroads of Military Discipline to the Central Municipal Junction.
Demonstrators carried pictures of martyrs and SDF flags as well as banners saying "No to the Turkish occupation, yes to the preservation of the achievements of the revolution, no bloodshed. We want to free our people and our land from the Turkish occupation, enough to the occupation of our land."
Speaking at the march that turned into a rally at the municipal crossroads, Girê Spî Canton Council Deputy co-chair Sebri Nebo condemned the invading Turkish state's attacks on the region and targeting civilians.
In the speech, all Russian forces were accused of the attacks that took place 1 km away from the Russian military base and the silence against these violations. Especially the silence of the guarantor state, Russia was condemned.
Sebri Nebo expressed their support for the population and young people of the region who could defend their region and the achievements of the martyrs, as well as support for the Syrian Democratic Forces.
After the protests ended, a delegation of local opinion leaders representing Ain Issa and Girê Spi Canton marched to the Russian base to protest their silence on the attacks and to demand that the invaders keep their promise to stop their attacks on the region.