People in Manbij celebrate 4th anniversary of establishment of Civil Administration
At the ceremony held as part of the anniversary of the establishment of Manbij Civil Administration, speakers said that Manbij led the project of the brotherhood of the peoples in Northern and Eastern Syria.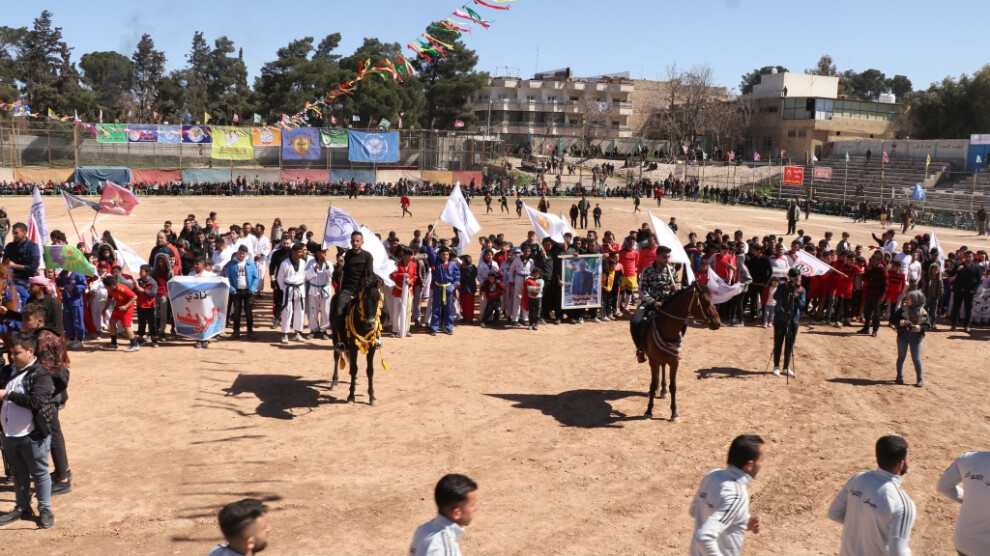 The 4th anniversary of the establishment of the Manbij Civil Administration, the 3rd Sports Festival was held in Beldi Stadium with the slogan "Sport shows the development of the peoples".
The festival began with a minute of silence after which Sports Association co-chair, Nasır El-Eli, said: "If today we organize a festival freely is thanks to our martyrs."
Speaking on behalf of the Manbij Civil Administration, Nezife Xelo said: "The Manbij Civil Administration it at the service of the people. It enabled Arab, Kurdish, Caucasian, Turkmen and all peoples to be partners in the administration."
Head of the Syrian Future Party, Ibrahim El-Qaftan, said: "We will fight shoulder to shoulder with the people of Manbij until the end. The international community and the states in the region should stop the provocations and attacks carried out by the Turkish state."
Şervan Derwiş, spokesperson of the Manbij Military Council, said: "We have never been involved in promoting war. We have always favoured peace and freedom. We are renewing our promise to protect the peoples of the region."