Martyrs laid to rest in Qamishlo and Manbij
Edib Ali and Bawer Eniz, who were killed in the bombardment by the Turkish state, were laid to rest in Qamişlo, and Self-Defense Forces martyr Ehmed Ferec Hec Ali in Manbij.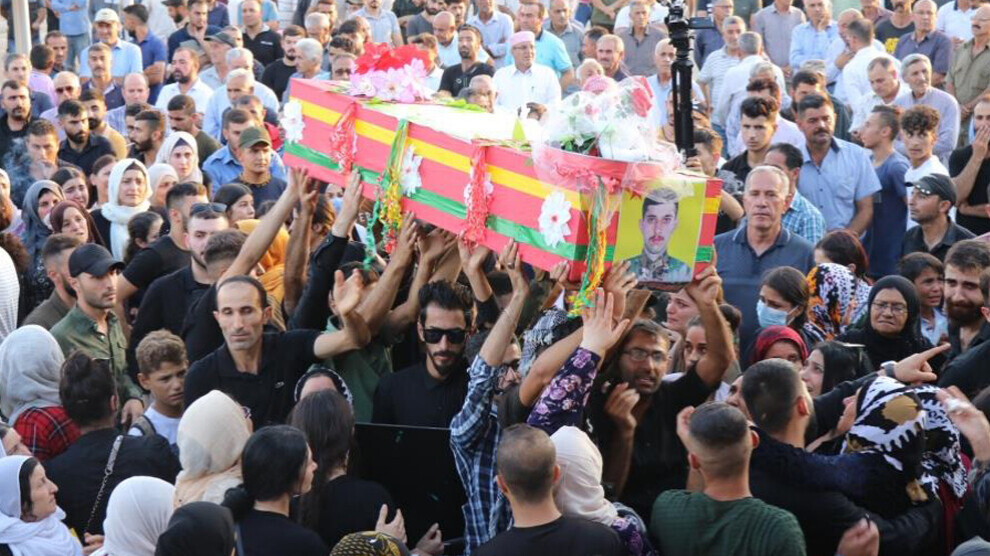 YPG fighters, Bawer Rıdwan Eniz (Çiya Qamişlo) and Edîb Ali, who were killed in the bombardment of the village of Melesibat in the west of the city of Qamişlo, were buried by thousands of people in the Martyr Delil Saroxan Cemetery.
Speaking at the ceremony, Isam Girbawi, member of the Qamishlo Martyrs' Families Council, pointed out that the Turkish state carried out massacres to break the will of the people, and emphasized that "the families of the martyrs and our people will not stop to support their military forces." Condemning the international silence in the face of the attacks, Isam Girbawi said: "This silence shows that they are partners in these crimes. The people will stand against the invasion attacks and will never surrender."
The families of both martyrs made a speech and promised to continue the resistance.
In Manbij, the funeral of Self-Defense Forces fighter Ehmed Ferec Hec Ali, who was killed on 10 August while on duty, was laid to rest by hundreds of people in Manbij.
At the ceremony, Self-Defense Forces Commander Hayib Manbij said in his speech: "We bid farewell to another martyr. This is proof that the price of freedom is heavy."
Martyr Families Council Member Hesna Dahir stated that the martyrs are those who gave their lives for the freedom of the country and promised to fulfil their expectations.
Manbij Legislative Assembly Co-Chair Mihemed Ali El Ebo said: "We have given many martyrs to protect this project since the Autonomous Administration of North and East Syria was established. Many forces are fighting this project and trying to defeat it. But we will continue to defend it."