Latest news from Serêkaniyê
The occupation attacks launched by the Turkish state in North-East Syria continue. The Turkish state and it mercenaries gathered around Serêkaniyê but SDF fighters have dealt heavy blows to the invarders.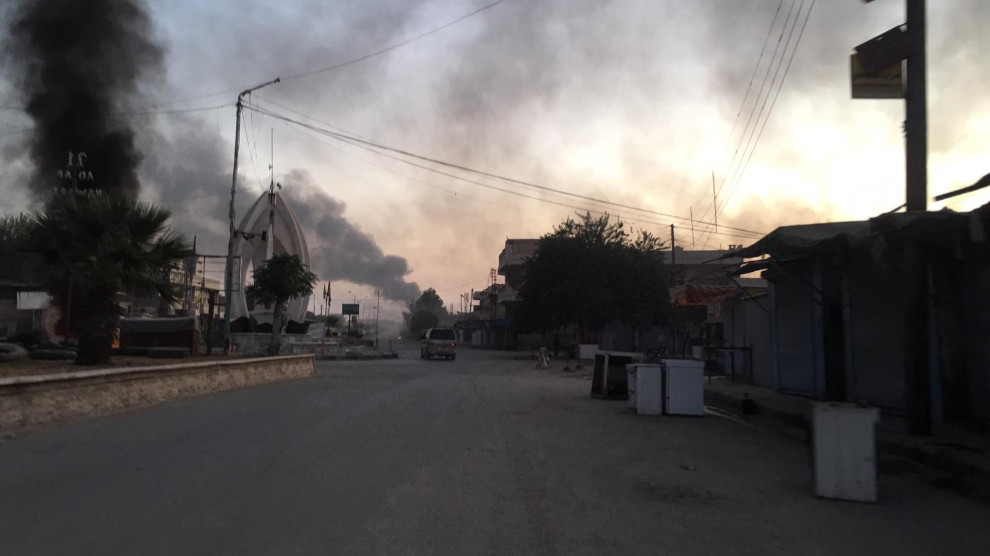 At least 35 mercenaries were killed and dozens were injured in the operations launched by the SDF fighters on three front lines on Thursday night against the Turkish army and mercenaries trying to besiege the city.
WESTERN FRONT
SDF fighters maintained controlled of the the town of Til Xelef in the west of the city after attempts by the invaders to take it over. Turkish army and mercenaries wanted to surround the town from two sides: Serêkaniyê-Til Xelef and Til Xelef-Til Erqum. However, the SDF forces launched an operation against the invaders and foiled the attempt.  At least 19 mercenaries were killed in the clashes.
The clashes supported by the Turkish state with war planes and howitzers still continue. On the other hand, Turkish war planes targeted a house in the town and killed a civilian whose name could not be established and wounding at least one.
EASTERN FRONT
The invaders who wanted to take the Serêkaniyê-Dirbêsiyê road and this surrounding the city from the Mezrê Miçê and Industrial areas in the east of Serêkaniyê have also received heavy blows since last night. At least 16 invaders were killed in the clashes, while the invaders' extensive attacks in the Industrial zone were broken.
SOUTHERN FRONT
ISIS sleeper cells, which were mobilized from the south of the city to complete the surrounding of Serêkaniyê, were kept under control by SDF fighters. On the Serêkaniyê-Hesekê road 4 mercenaries were killed and 5 caught since Thursday morning.
CLASHES CONTINUE
The clashes on the western (Til Xelef) and eastern (Mezrê) fronts of the city continue with heavy weapons. While the invaders target the city with howitzers, SDF fighters respond with heavy weapons. 
WHAT IS THE INVADERS PLAN?
While trying to surround Sêrêkaniyê, the invaders entering the siege area are trying to take control from east and west to the south.
Similarly, the invaders trying to take control from the east and west of Girê Spî are planning to occupy the cities and in a second phase to occupy the 120 km line between Serêkaniyê and Girê Spî.