Hunger strike in Kobanê in solidarity with prisoners continues
People in Kobanê stand in solidarity with the prisoners on hunger strike in Turkey against the isolation of Abdullah Öcalan as well as inhumane conditions and ever-increasing rights violations in prisons.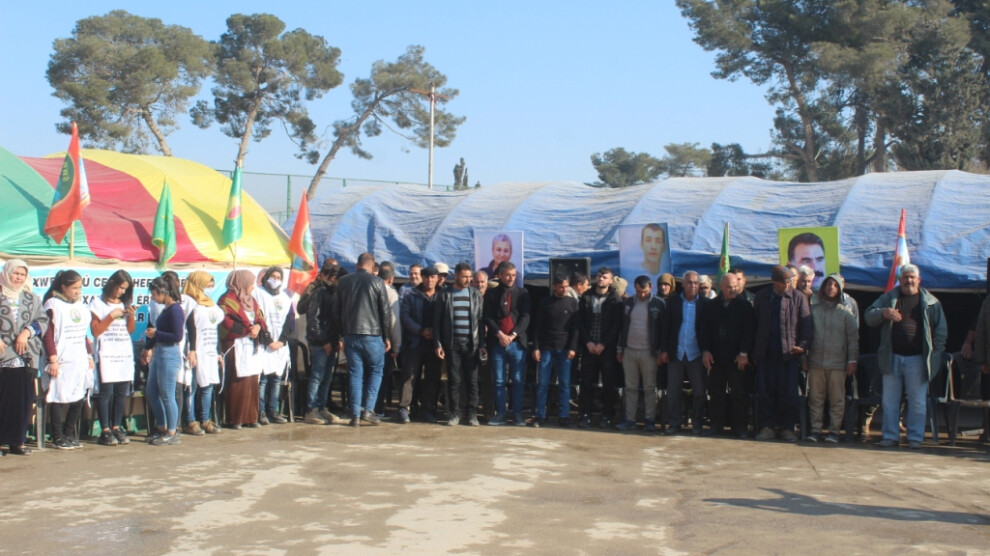 As the hunger strike initiated by prisoners against the isolation of Kurdish people's leader Abdullah Öcalan marks its 43rd day, the hunger strike that started under the lead of the Council of Martyrs' Families in order to support the action of the prisoners and to protest the arrest of DTK co-chair Leyla Güven has been continuing in Kobanê for 6 days.
The hunger strike action is taking place in a tent set up at the Martyr Egid Square in the center of Kobanê.
Participants in the action were visited by representatives of TEV-DEM (Movement for Democratic Society) and non-governmental organizations in Kobanê.
Speaking here, Sirin district co-mayor Mustafa Muslim expressed their support for the hunger strike action and emphasized that the peoples of North-East Syria are united.
Speaking after, Bekir Cerada, a member of the Euphrates Region Justice Council, stated that they will enhance the struggle against the Turkish state which maintains an Ottoman mindset.