Future Syria Party holds congress in Raqqa
Messages of resistance and unity given during the 2nd Ordinary Congress of the Future Syria Party.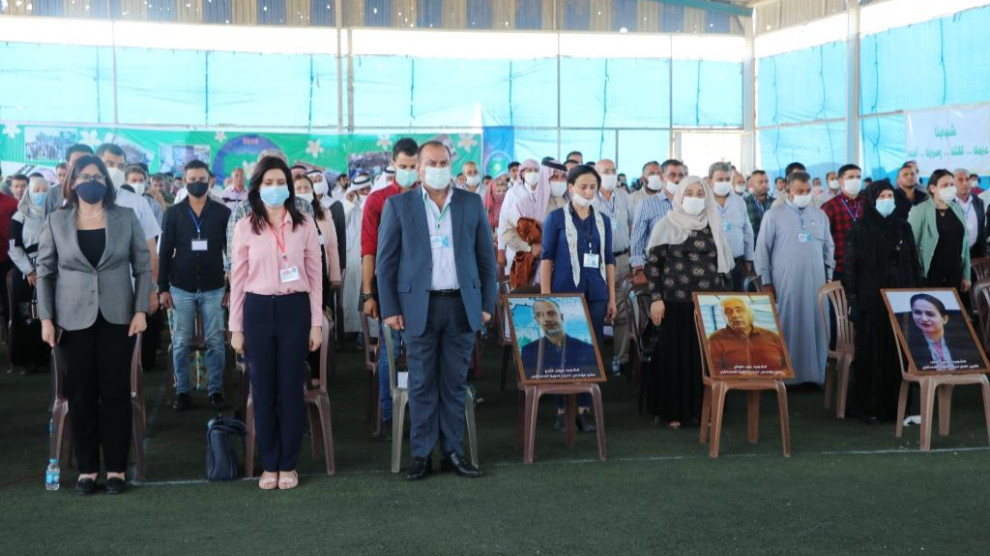 The Future Syria Party held its 2nd Ordinary Congress in Raqqa city on Saturday under the motto "A Democratic, Pluralistic and Decentralized Syria! A Strong Autonomous Administration and Strong SDF".
The congress was attended by 315 delegates from the political parties, Civil Council, Autonomous Administration and Kurdish and Arab tribes in the region. The congress began with a minute's silence, after which the two-year activity report of the party was read out.
"WE WILL KEEP THE RESISTANCE GOING"
Holding the opening speech, the Future Syria Party leader Ibrahim Qeftan said; "Two years have passed since the founding congress of our party. This process has witnessed major changes in Syria. The war ongoing in the country for nine years makes itself felt throughout the country."
Qeftan said that today's congress also meant promising to continue the struggle of the martyrs of the party like Umer Elûş, Hevrîn Xelef, Ferhad Remedan, Merwan El-Fitêh and Nadiya Xişan.
Remarking that their party tried to be an answer to the current process, Qeftan continued; "The Future Syria Party has taken part in all the significant waves in the country and supported a political change for a lasting solution to the Syrian crisis. In addition, it has done its best to do its part for the protection of the people's achievements."
After Qeftan's speech, the political report was read by Salih al-Zawbaa, a Member of the General Council.
"NO SOLUTION CAN BE FOUND WITHOUT THE AUTONOMOUS ADMINISTRATION"
Speaking after, the Co-Chair of the North-East Syrian Autonomous Administration Executive Council Abdulhamid al-Mihbash, recalled that their party has paid many prices to preserve the unity of their lands and people. stressing that terrorism in Syria will be ended thanks to martyrs who sacrificed their lives for freedom, democracy and reconstruction of the country.
Abdulhamid al-Mihbash noted that the Autonomous Administration of North and East Syria has made significant achievements, both in economic and social aspects, during the recent years, improving the economic situation of the people. He stressed that there can be no solution to the Syrian crisis without the Autonomous Administration and Syrian Democratic Council.
MOTHER OF HEVRIN KHALAF SPOKE
In the name of martyrs' families spoke Future Syria Party Secretary General Hevrin Khalaf's mother Suad Khalaf, her friend Nadiya Xeşan, martyr Merwan Fitêh's friend and Deir ez-Zor General Council member Zahir Abdulhemid and the daughter of Umar Elush. Speakers highlighted the importance of the North-East Syrian peoples for the Autonomous Administration project to succeed.
During the congress, Ibrahim al-Qeftan was elected the leader of the party and Siham Dawud the Secretary General of the party. 139 members were also eleted for the party's General Council.