Doctor Wilk visits Rojava: "No one here has been vaccinated yet"
Vaccine distribution reflects global power relations. Michael Wilk, a doctor from Wiesbaden, Germany, visited the Corona Clinic in Hesekê and sees an urgent need for vaccine, rapid tests and FFP2 masks.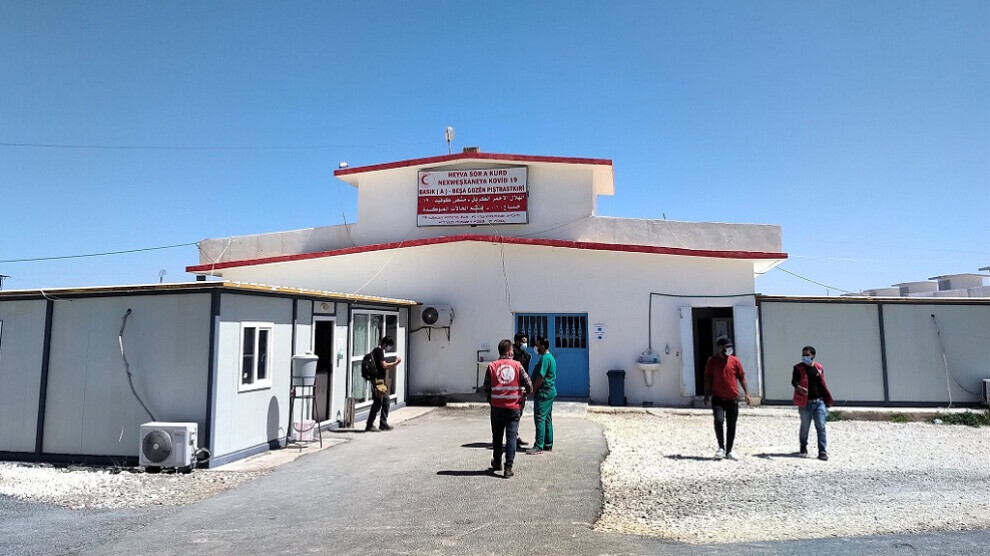 Michael Wilk, an emergency physician and psychotherapist from Wiesbaden, has traveled once again to the Democratic Federation of Northeast Syria and visited the Corona Clinic of the Kurdish Red Crescent (Heyva Sor a Kurd) near Hesekê. The clinic has 85 beds and currently has 36 seriously ill patients. What is completely lacking, according to Wilk, are FFP2 masks, vaccine and intensive therapy options. There is also a shortage of PCR tests. According to the Autonomous Administration Health Authority, more than 13,000 infections have been detected in northern and eastern Syria to date, and 437 people have died from Covid-19.
Michael Wilk has supported the Kurdish Red Crescent organization since 2014 and praises Heyva Sor's work as "excellent and indispensable". Regarding his current observations in northeastern Syria, he says:
"As a propagandistic hate object of the Turkish Erdogan regime, the majority Kurdish but also multi-ethnic region has been subjected to attacks and invasions by the Turkish army for years. Life in Rojava suffers from war, displacement and the partly still destroyed infrastructure. Along with the ancestral population live thousands and thousands of people who fled here from other parts of Syria. The situation of the people, especially children and young people, is extremely difficult in view of these conditions, and the reconstruction of schools and universities requires great commitment and creativity."
A true Sisyphus task
"Now Corona is additionally burdening people's everyday lives. The pandemic, triggered by the current extreme increase in infection rates, is forcing harsh consequences. The major cities of Qamishlo and Hesekê are in strict lockdown. Stores, offices and businesses are closed, only food and other necessities are accessible, and the streets of the major cities, otherwise burdened by heavy traffic, are eerily empty. The resurgence of the epidemic is not only due to various celebrations and festivities in March; it is also suspected that the British mutant may have been imported from Iraq.
The Kurdish Red Crescent's Corona Emergency Center is staffed around the clock, and teams are working at full speed to process the calls. In case of clear pathology, PCR testing is done, and if Covid-19 is confirmed, home quarantine is done for less severe symptoms. Inpatient care is available, 'corona beds' with oxygen tanks, perhaps 500 in all, have been set up at various foci. A true Sisyphus task. Attempts are being made to counter the glaring lack of equipment and medical supplies through enthusiasm and improvisation. However, there is a lack of suitable ventilators and specialized personnel. No one here has been vaccinated yet."
Vaccine distribution reflects power relations
On the prospect of vaccinations in Rojava, Wilk explains: "So far, about two-thirds of the world's vaccines have been delivered to only six countries, and elsewhere the air is burning, including here: Vaccines are urgently needed, rapid tests are not available, even FFP masks are scarce, colleagues work without vaccination protection with highly infectious patients. There is also the threat of a shortage of PCR tests.
It is bitter, the use and distribution of the Vaccine reflect not least also the world-wide power, privilege and domination relations. A first shipment from WHO is scheduled to arrive in Syria in May, part of which will be used in the self-governing areas of northeastern Syria to combat the pandemic. The shipment is expected to be enough for just two percent of the population and to protect particularly vulnerable people from Covid."