Protest in Hesekê on day 2: Let's unite against isolation
The tent protest launched in Hesekê to support the prison resistance against the Imrali isolation is on its second day. Speakers called upon peoples to stand against the isolation.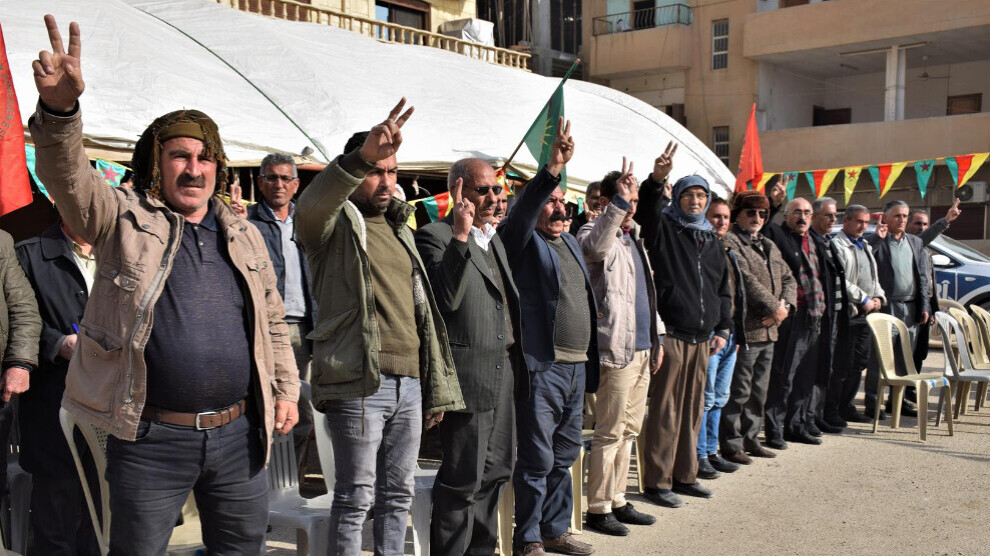 The Syrian Revolutionary Youth Movement and the Young Women's Union continue to embrace the hunger strike resistance launched by prisoners in Turkey against the isolation imposed on Kurdish People's Leader Abdullah Öcalan. The protest, which was launched to show solidarity with the prison resistance, continues on its second day.
The action initiated under the motto "We will win with the spirit of the prisons" is supported by various groups.
6 non-governmental organizations in Hesekê and Dirbêsiyê also visited the tent protest on Wednesday. Photos of martyrs, flags of the SDF, YPG, Kongreya Star and Revolutionary Youth Movement and banners "Now it's time for freedom, we will definitely win" were hung on the tent set up near the Assyrian Church in the Til Hecer district in Hesekê. Members of Dirbêsiyê Council, Revolutionary Youth, Young Women's Union, Martyrs' Families Assembly delegation, and Kongreya Star members visited the action tent.
During the protest, Ekrem Derwiş, a member of the Dirbêsiyê Council, and Ehmed Esad, the co-chair of the Hesekê Martyr Families Assembly, made a speech.
'THE PEOPLE MUST STRENGTHEN THE UNITY'
Ekrem Derwiş said: "Political prisoners are sacrificing their lives to stop the isolation imposed on Leader Abdullah Öcalan and the practices against political prisoners in prisons."
Derwiş called on all peoples of the world, especially the Kurdish people, to strengthen their unity in this sensitive process and to stand against conspiracies against the region. Martyrs' Families Assembly co-chair Ehmed Assad recalled that Mazlum Doğan resisted until he was martyred in the Amed prison and stated that as Rojava peoples, they will resist to fulfil prisoners' goals. The action is expected to last 7 days.