Demonstration against Turkey's threats in Gire Spi
Masses protested against Turkey's threats of occupation against northern and eastern Syria.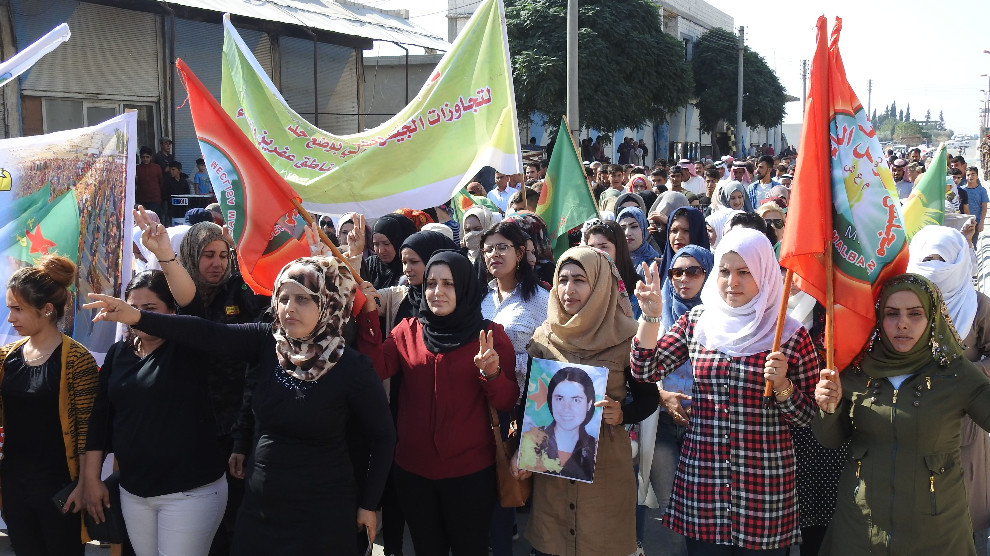 Gire Spi (Tal Abyad) Canton Council organised a massive demonstration to mark the 5th year of ISIS attack on Kobane and to protest the Turkish state's threats to invade North and East Syria.
Hundreds joined the march which kicked off in al-Iskan neighborhood, carrying photographs of martyrs and banners against occupation, and chanting slogans saluting the resistance in Kobane and Afrin.
The march was followed by a rally at the Municipality Junction where Gire Spi Canton Council Co-president Sebri Mistefa spoke and said; "The Turkish state wants to revive the Ottoman invasion by taking advantage of the crisis in Syria. Turkey wants to wipe out the will for co-existence in North and East Syria."
While Syrian Future Party executive Fatima Şeban saluted the resistance of Kobane and Afrin, Kongreya Star official Huda Mistefa reiterated their commitment to follow in the footsteps of martyrs in their fight to end terror.