Damascus government prevents delivery of AANES aid to Aleppo and Shehba
The Damascus government has once again prevented the crossing of aid trucks sent by AANES to the earthquake victims in Aleppo.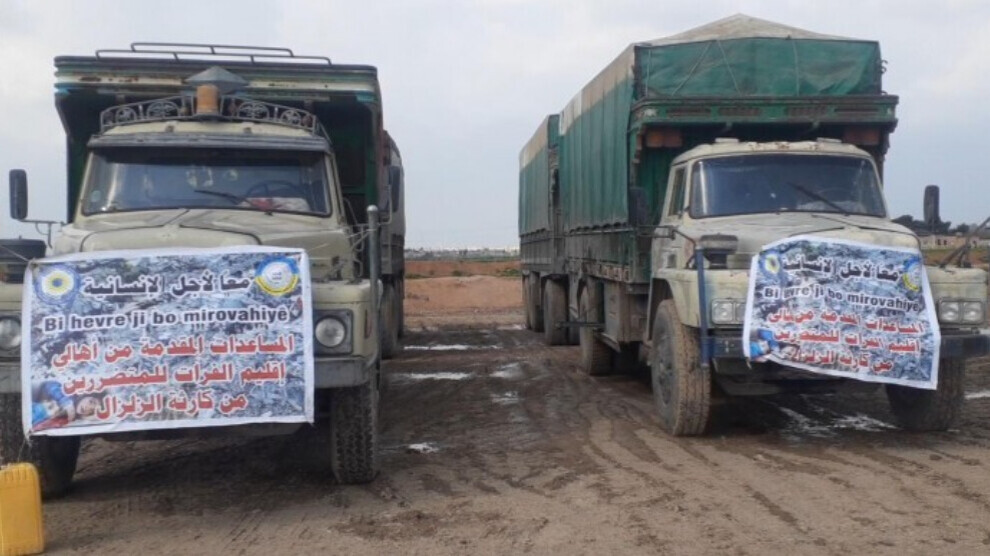 In the wake of the Turkey-centered earthquakes that also devastated parts of Syria on February 6, the Autonomous Administration of North and East Syria (AANES) launched a campaign called "Together for Humanity" and continues providing aid to the affected areas. On Sunday, AANES sent two trucks of aid from Kobanê Canton to the al-Tayiha crossing in Manbij to be delivered to Aleppo and Shehba.
In a statement on Sunday, the Euphrates Region Autonomous Administration Social Affairs and Works Committee Co-Chair Helin Hajim said that they had been able to get permission to deliver aid to the quake-hit areas. Yet, the trucks with humanitarian aid have been kept waiting at al-Tayiha crossing by the Damascus regime for the second day in a row.
Following the Damascus government's obstruction of aid delivery to Aleppo on March 14, AANES withdrew the humanitarian aid convoy from al-Tayiha crossing. The Damascus government also prevented the passage of 100 fuel trucks prepared by AANES to be delivered to Aleppo and Shehba for 9 days.