Children celebrate the New Year in embattled Ain Issa
In embattled Ain Issa, hospital workers hosted a New Year's celebration for children to at least bring some normalcy in the midst of the siege.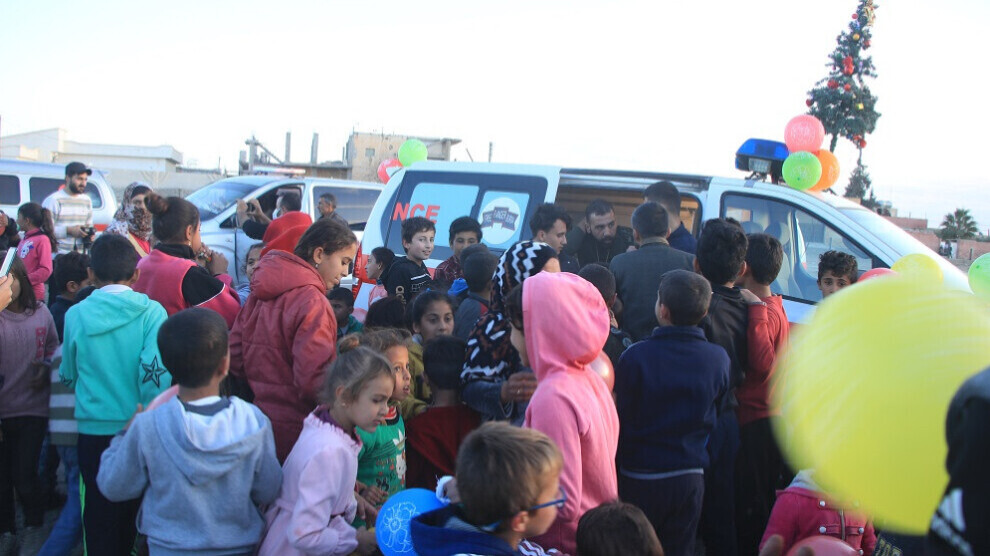 Since November, mercenaries of the Turkish invading forces have been trying to occupy the self-governing northern Syrian city of Ain Issa, while the Turkish army terrorizes the population with artillery fire. Despite the permanent threat, many children took to the streets on New Year's Eve to celebrate the new year.
Employees of the Şehîd Omar Alûş hospital in Ain Issa drove through the city in an ambulance, distributing gifts and playing games with the children. They distributed chocolates, toys and balloons to the children.
"Bombs hit here every day"
"You know the situation in Ain Issa. Bombs hit here every day," said hospital employee Şêxa Mehmut Imiş. "This has a very negative impact on the children's psyche. We want to give them strength in this way. By buying them gifts we wanted to give them energy and make them spend at least a few nice hours with their families."
Her colleague Abu Sali said: "We gathered here today to celebrate New Year's Eve with the children. Our goal is to enable the children to enter the new year happier. Ain Issa is shelled every day, and this affects the children. They are afraid and restless. So we wanted them to have at least a little bit of a normal day."