5,000 bodies recovered from the mass graves in Raqqa
Bodies of 5,000 people have been unearthed from the mass graves in Raqqa so far.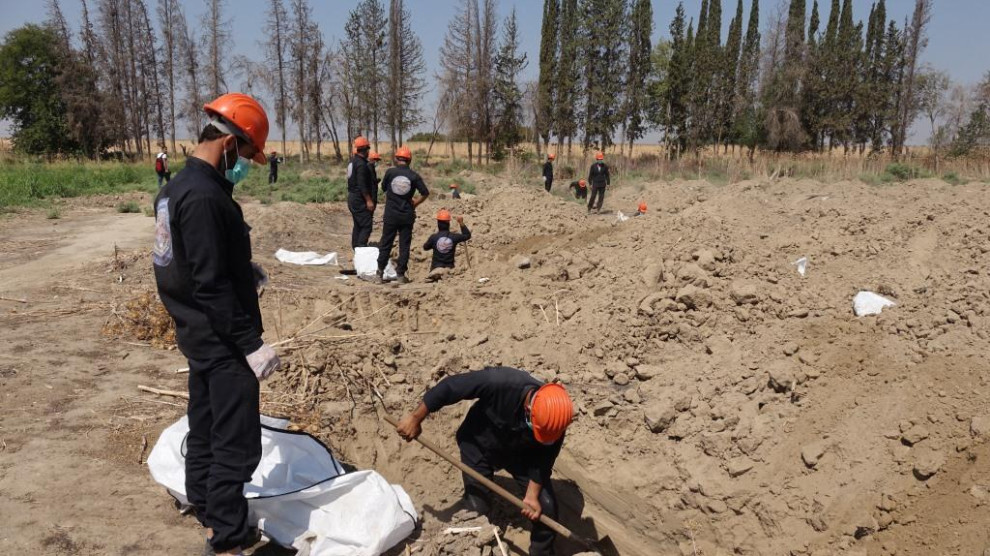 The Civil Council of Raqqa, which was established following the liberation of the city from ISIS gangs in October 2017, has undertaken the reconstruction of the city which had been greatly demolished during the occupation of the terrorists. Raqqa was the city ISIS jihadists proclaimed the capital of their Caliphate. It is one of the cities which suffered most and witnessed inhuman massacres, beheading, violence difficult to express with words.
Some 85% of the city and its infrastructures had been destroyed by ISIS. Within the scope of the coordinated activities of the Raqqa Civil Council and the People's Municipality, roads were re-opened water started to be supplied to the neighborhoods and the war debris removed.
As the city rebuilds itself, units under the Raqqa Civil Council are working to remove the bodies from the discovered mass graves and to identify them.
The mass grave discovered in the Miasker al-Talaya region was the largest one created by ISIS gangs during their occupation of the city.
After recovering the bodies and identifying them, the units bury the remains respecting religious duties together with the families of the victims.
According to the units involved in the work with mass graves, 5 thousand bodies have been recovered so far. Of these, some belong to ISIS gangs while the rest is of the civilians massacred by the terrorists.
ISIS gangs committed most savage attacks against civilians after their occupation of the Raqqa city. The mass graves discovered in Panorama, al-Fukheikha and Miasker al-Talaya regions expose the brutality of the ISIS terrorists backed by the Turkish state.
Unit official Yasir al-Xemis said that they are currently working in al-Fukheikha region where 660 bodies have been recovered up to date and some of these have been identified.
Yasir al-Xemis added that there are more mass graves in the city and their efforts to discover these and recover the bodies are continuing.
RELATED NEWS: