Diyarbakır Police Department admits secret witness does not exist
Political trials in Turkey are based almost entirely on statements made by prosecution secret witnesses. In a trial in Amed, the police now had to admit that such secret witness does not even exist.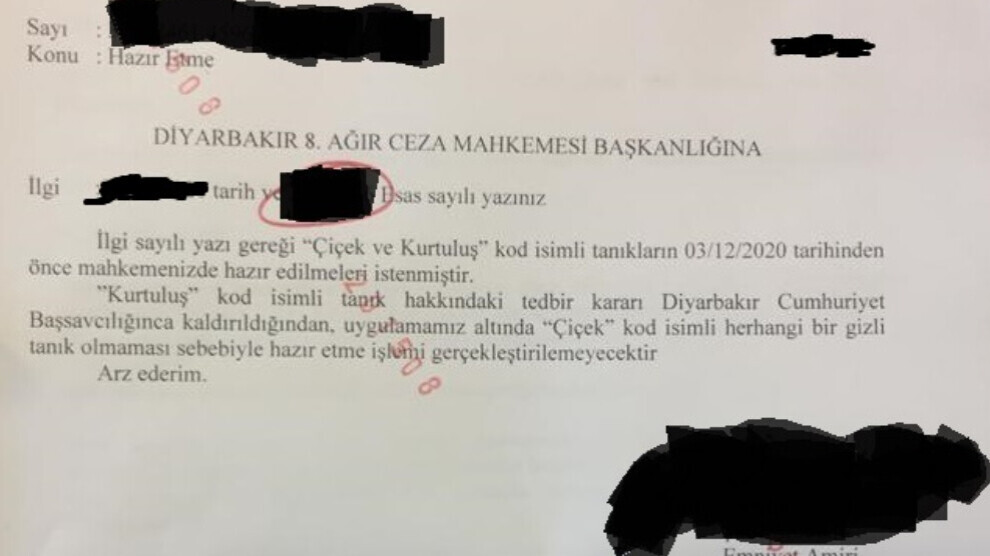 The arrests carried out within the scope of the political extermination campaign against Kurdish politicians and activists in Turkey are often based on alleged statements by secret witnesses of the law enforcement authorities.
In the last few years almost all arrests have been made on the basis of such a secret "testimony". The pool of witnesses is so large that the police are already struggling to find code names for their secret witnesses. The names of characters from Turkish TV series are now also being used: Ezel, Cesur, Kurtuluş, Çiçek, Içeride, Ulaş, Firar, Roma, Plevne and Kosova are just a few of them.
Sometimes the courts want to summon the secret witnesses in proceedings based on statements made in the course of the police investigation. In some cases, they are key witnesses who hope to be exempt from punishment by signing ready-made statements. In other cases, the alleged witnesses are fictitious or the desired testimony about the criminalization of a certain person is first made and then someone is searched to confirm this.
This practice has now been exposed in the correspondence between the eighth criminal chamber Diyarbakir and the police department of the Kurdish provincial capital. The court wanted to summon two witnesses named by the police in a political trial. The response from the police, as ANF is able to show, confirms that these witnesses do not even exist.
The letter stated that the court wanted to hear "secret witnesses code-named Çiçek and Kurtuluş" in the trial but that this was not possible "since the cautionary decision on the witness code named Kurtuluş was lifted by the Diyarbakır Chief Public Prosecutor's Office and there is no witness codenamed Çiçek."