'We Want our World Back' conference continues in Hamburg
The fourth conference of the series, "Challenging Capitalist Modernity", continues in Hamburg.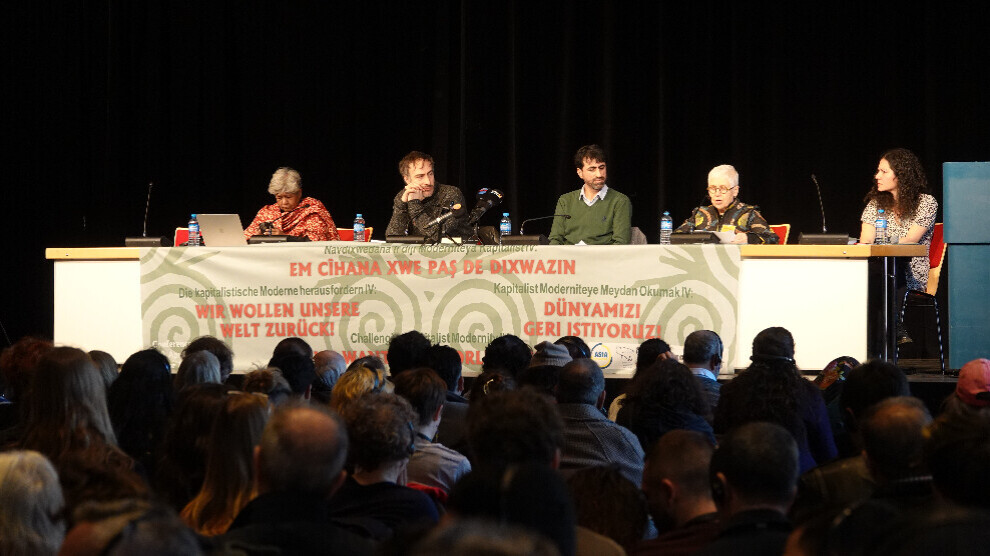 Scholars and activists from around the world have met in Hamburg for the conference "We Want Our World Back." The fourth conference of the series "Challenging Capitalist Modernity" will end on Sunday.
On Friday, the event began with a lively Kurdish-Irish music and dance performance.
The first panel was dedicated to the topic of ecocide.
Ecocide in Kurdistan is increasing every day
The first contribution on this topic was from Derya Akyol, the co-spokesperson of the Ecology Mesopotamia Movement. Unfortunately, she could not be there in person, so her analyses on the ecocide in Northern Kurdistan were read out. She reported that the destruction of nature in Kurdistan is more extreme than in other countries and is caused by the Turkish state. There has been an ecocide project for about 100 years. This is carried out through the construction of dams, mining and the destruction of forests. In this process, not only the ecosystem is attacked, but also the culture and history of the Kurdish people, as in the case of the ancient city of Hasankeyf, a UNESCO cultural heritage site. The report made it clear that ecocide is increasing every day, but this is not happening without resistance as the ecology and women's movements are fighting against this threat and destruction.
The second session was dedicated to societicide, epistemicide and femicide.
Havin Guneser, one of the speakers of the International Initiative Freedom for Öcalan - Peace in Kurdistan moderated the panel. At the beginning, she again expressed her gratitude to all those who made the conference possible despite the last minute withdrawal of the original conference rooms at the University of Hamburg. She also thanked the speakers as well as the Kurdish People's Council, the Rojbîn Women's Council and the General Students' Committee (AStA) of the University of Hamburg, who were involved in organizing the conference.
Because of the change in venue, the third day of the conference, tomorrow, Sunday, will see only workshops taking place at four different locations.
Among the speakers was Veronica Maio, a philosophy student from Turin. She responded to the call for papers of the conference with her paper "Primordial accumulation processes in Sumerian society". Referring to materialist and Foucauldian feminisms, she said that the process of primordial accumulation was not only the accumulation of capital, but also the accumulation of differences and divisions as the basis for hierarchy. This could be traced back to ancient Mesopotamia, when the development of agriculture began-and patriarchal authority developed. The institutionalization of hierarchy was later organized in the form of the state. Maio traced this process using the example of Uruk in Lower Mesopotamia, where agricultural innovation was followed by an urban revolution, which in turn already implied the presence of a centralized administrative system, the temple, thus the presence of authority.