Full page call for Freedom for Öcalan in Junge Welt
In today's issue of the daily Junge Welt newspaper published in Germany, a full page call issued by the British trade unions' "Freedom for Abdullah Öcalan, peace for Kurdistan" campaign was published.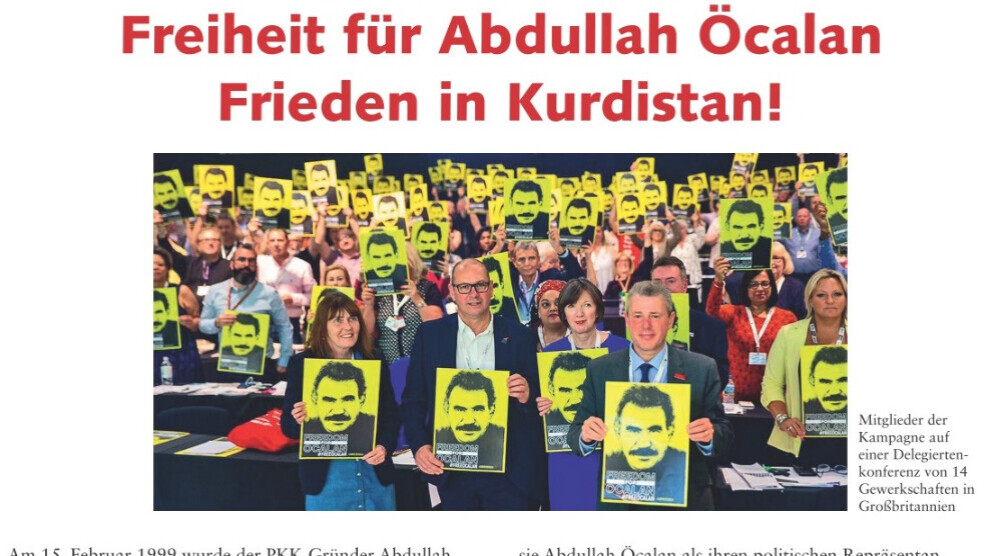 Another newspaper in Germany has published the call for the campaign "Freedom for Öcalan" run by Unite the Union, Britain's largest union with 1.5 million members, and GMB unions with 700 thousand members. Previously published in Germany's daily newspaper Die Tageszeitung (TAZ) and the weekly Der Freitag, the advertisement appeared on the pages of Junge Welt newspaper today.
The full page advertisement shows a photograph taken during the congress of the British Confederation of Trade Unions in September 2019. The photograph shows trade unionists lifting cards with a portrait of Abdullah Öcalan with "Freedom for Öcalan" written on them.
The Freedom for Öcalan campaign is a UK trade union-backed initiative to secure the release of imprisoned Kurdish political prisoner Abdullah Öcalan.
In 2017 the annual meeting of the TUC voted unanimously for a motion calling for Mr Öcalan's immediate release and a return to peace talks between Turkey and representatives of the Kurdish people.
The Unions said of Abdullah Öcalan that "he is the recognised leader of the Kurdish movement in Turkey and beyond. He speaks for the Kurdish people's aspirations for freedom from political and cultural oppression, for democracy and peace.
As the leader of the PKK (Kurdistan Workers' Party), he was abducted and kidnapped on 15 February 1999 and taken to Turkey. There, he was initially sentenced to death, commuted to a life sentence. Since then he has been detained in mainly continuous solitary confinement on the island prison of Imrali."
BACKGROUND
Britain's largest unions, Unite The Union and GMB jointly launched the Freedom for Öcalan campaign in April 2016. While the paradigm of the Kurdish People's Leader was explained to thousands of British people thanks to the panels and seminars held in the last four years, the campaign has become one of the biggest in Britain.
Unite the Union and the General Labor Union-GMB led the campaign which was then joined by Unison, the second largest union in the country with 1.3 million members. Communication Workers Union (CWU) with 200 thousand members, Teachers Union with 450 thousand members (NEA NUT), General Work Union (GFTU) with 400 thousand members, Train Drivers Unions ASLEF and TSSA with 45 thousand members, Firefighters Union with 55 thousand members (FBU), 80 thousand members Scotland Teachers' Union (EIS), 80,000-member Railways, Maritime Transport Union (RMT) all passed motion to support the call and engage in actions to ensure the freedom or the Kurdish leader.