Turkey demands aggravated life imprisonment for YPJ member
Prosecutor demanded aggravated life sentence in the third hearing of the case against Çiçek Kobanê, who was arrested after being taken prisoner in the invasion attacks launched by the AKP-MHP fascist alliance and its gangs on Rojava on October 9, 2019.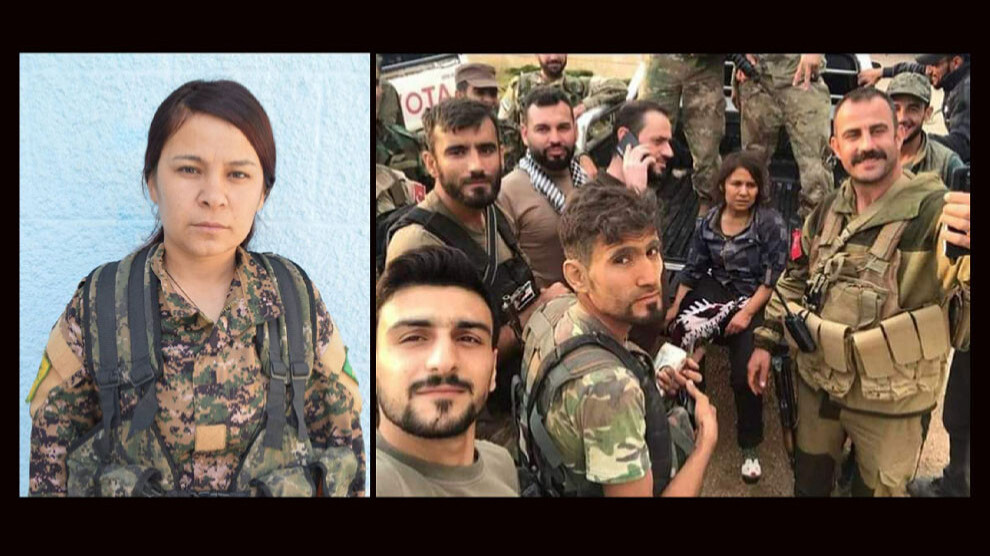 The trial against prisoner of war Çiçek Kobanê (civil name: Dozgin Temo) continued on Thursday at the 5th Heavy Penal Court in the province of Urfa, Turkey. The YPJ (Women's Defense Units) member is accused of disrupting the unity and integrity of the state, membership of an armed terrorist organisation and deliberate murder attempt in several cases. Çiçek Kobanê was captured last October in the village of Mishrefa near Ain Issa in northern Syria by the jihadist militia Ahrar al-Sham, which is part of Turkey's jihadist proxy troops, the so-called "Syrian National Army" (SNA), and has participated in the invasion of Rojava alongside Turkish forces. After her capture, the Raqqa-born Kurdish woman from Kobanê was deported across the border into Turkish territory. Since then she has been held on remand in a high-security prison in Urfa.
While Çiçek Kobanê was brought to the hearing from Urfa T Type Prison No 2, where she is detained, her lawyer was present in the courtroom.
Çiçek Kobanê, who made a defense with the help of a Kurdish interpreter, said that she was a YPJ fighter, did not participate in any armed conflict, and was shot in the foot after being caught.
Kobane's lawyer Hidayet Enmek, who made a defense at the hearing, said that there was no due process of arrest, that the people who made the arrest were members of the groups called FSA (Free Syrian Army) and that this group does not have the authority to arrest a person. The lawyer stated that the arrest procedure was not carried out based on the 90th article of the CMK (Turkish Code of Criminal Procedure) as there is no detail in the case file, and no record of who his client was detained by.
The prosecutor demanded an aggravated life sentence for Çiçek Kobanê in his opinion, while her lawyer asked for additional time to defend against the opinion.
After the break, the court ruled continuation of Çiçek Kobanê's detention and adjourned the verdict hearing to 24 November.
RELATED NEWS: