Turkey attacks Kurds in Afrin with German tanks
The Turkish army uses German tanks in the attack against Kurds in Northern Syrian region of Afrin.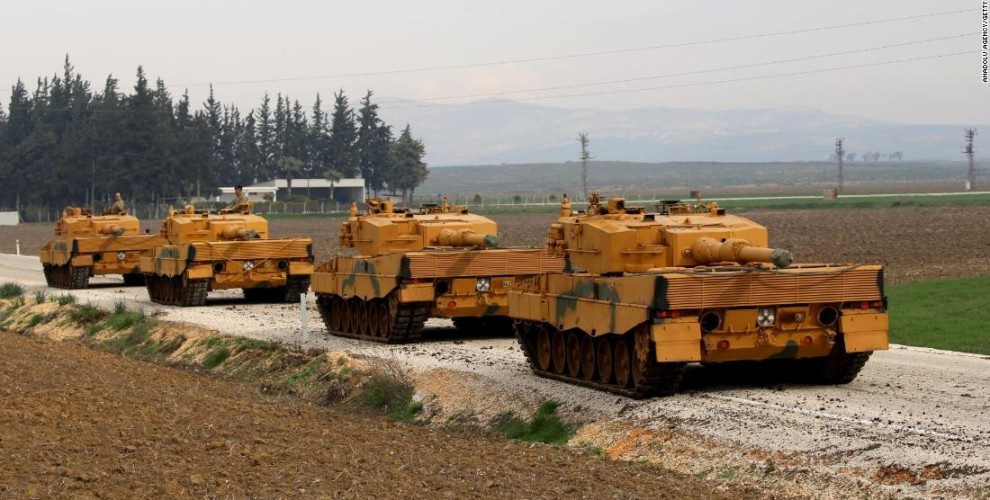 A weapons expert from the German military (Bundeswehr) confirmed to the German Press Agency on Monday that images which were published by Turkish state news agency shows German Leopard 2 A4 tanks used by the Turkish army in its invasion attack against Afrin.
The German federal government did not want to comment on the question of whether the pictures show "Leopard 2" tanks. A spokesman for the Department of Defense refused to comment and said that the source of the images could not be verified.
The Ministry of Defence, which is responsible for arms exports, added: "Apart from the images from the media that you all know, we have no insight into the use of Leopard tanks".
German Focus magazine raised the question of Turkey using German tanks against Kurds, as Germany's Ministry of Foreign Affairs wants to approve armor upgrade Germany has supplied 751 "Leopard" tanks to Turkey since the 1980s. 354 of those tanks are modern type "Leopard 2" and were delivered between 2006 and 2011.
Speaking to ARD TV's "Report from Berlin" Federal Foreign Minister Sigmar Gabriel had said that German government wants to approve modernization of the tanks. Gabriel stresses that he sees "no right reasoning" why one should deny the NATO partner Turkey such an upgrade.
The Federal Government has granted only a few permits for arms exports to Turkey since the crisis between Berlin and Ankara. The main issue in the conflict is the imprisonment of "Die Welt" correspondent Deniz Yücel, who has been imprisoned in Turkey without charge for more than eleven months.
The German opposition MP's Sahra Wagenknecht and Ulla Jelpke criticized German government for providing weapons to Turkey.
"YPG forces freed the Northern Syria from ISIS with their blood. Do Merkel and Gabriel thank them by supplying weapons to the Turkish army and remaining silent on the war against Kurds?" Wagenknecht said.
Jelpke accused the German government of hypocrisy and said: "On one hand Germany wants to combat with the reasons behind immigration while supporting a process with supplying weapons to Turkey that can result in a new wave of refugees".