The first bullet: Murder of Vedat Aydın
The Turkish campaign in 90s against Kurdish struggle for independence, was one of the most violent period of the country's recent history.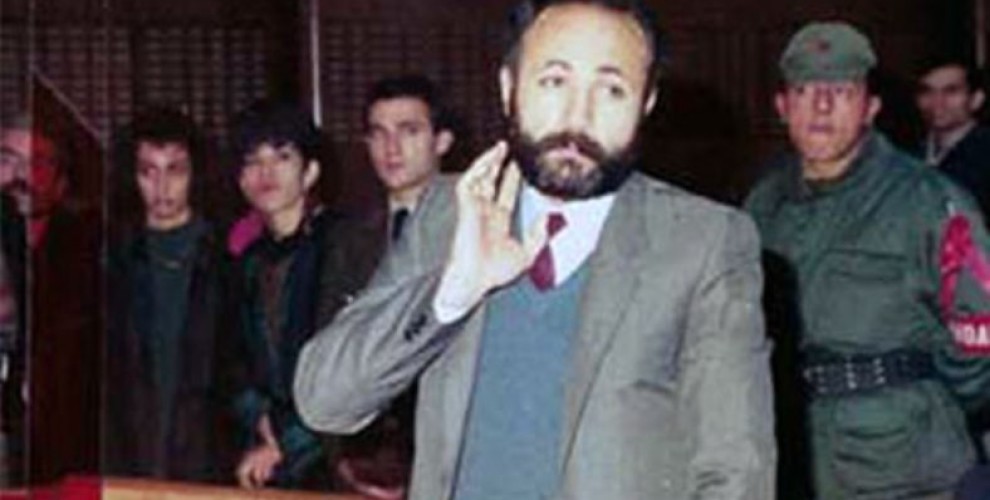 The Turkish campaign in 90s against Kurdish struggle for independence, was one of the most violent period of the country's recent history. And as a part of a Turkish political tradition the Turkish state started to use its centuries old tactics against it: mass killings and forced migration of ethnic groups.
It all started with one murder. It was the mother of political assassinations at that time period: Murder of Vedat Aydın.
THE MURDER THAT SENT SHOCKWAVES THROUGH AMED
Vedat Aydın was the head of People's Labor Party (HEP) Amed (Diyarbakır) branch. He was a prominent figure and widely respected politician at that time. When he was taken under custody by the Turkish police on July 5th, 1991 it wasn't big news for anybody. The Turkish state's oppression against Kurdish politicians was immense and custodies or even torture was common at that time.
But things got complicated. The following day, Turkish officials denied that Vedat Aydin was in custody. There were reports of Turkish counterguerrilla units killings in Şırnak, Cizre and Mardin but no one was thinking that a prominent figure like Vedat Aydin would be targeted.
On July 7th an unidentified body was found under a bridge in Maden, a district of Elazığ province about 50 kilometres north of Amed. There were signs of extreme torture and multiple gunshot wounds on the body. Aydin's family rushed to the morgue in Maden and identified the body.
TURKISH POLICE WAS PREPARED FOR A MASSACRE
This murder sent shockwaves through Kurdish community, especially Amed, Vedat Aydin's hometown. Turkish authorities handed Aydin's body to his family three days later. They were told that it was because of juridical processes. But it was something else. The Turkish state had its own preparations for the funeral. And when everything was set, they paved the way for the funeral.
More than a hundred thousand people attended the funeral. The ceremony was led by prominent figures of Kurdish politicians as well as human right defenders and intellectuals. Aydin's coffin was brought to Sümer Mosque in central Amed. After prayers the crowd walked to Mardinkapi Cemetery for the burial.
The crowd was stopped before the cemetery's entrance by the Turkish police. The police was saying that they won't let such a large crowd enter the cemetery. As there were talks to remove the police barrier, shots were heard.
The masked so called special forces opened fire against the crowd. There was immense panic. Gunshots continued for 3-4 minutes. Four people were killed on the spot. Several were wounded and taken to the hospital.
After the first attack police removed the barrier and let the crowd move to the cemetery. The crowd gathered back again.
Aydin was buried after a short speech by his brother Deniz Aydin.
PEOPLE WERE DELIBERATELY TARGETED
Everybody thought that it was over and the crowd dispersed and most people started walking to the city center. But the road was blocked by Turkish police again. This time there were more policemen, more special forces and armoured vehicles. The police let the crowd walk to city in small groups. After most people passed the police barrier, only a few thousand people were waiting for police's permission to walk to the city center.
First there were three shots. Then hundreds of armed policemen started to open fire on the remaining people. A helicopter and armoured vehicle were escorting the attack. People who were trying to flee the area were captured and beaten by Turkish police.
MPs Ahmet Türk, Orhan Doğan, Hatip Dicle and other Kurdish politicians were tortured along with journalists and human rights defenders.
The attack lasted around 20 minutes. It left 23 people dead and more than two thousand wounded. 19 were buried at night time, only 4 families were granted permission for a proper funeral.
23 WERE KILLED AND NO ONE APPEARED BEFORE COURT
No Turkish official or policemen appeared before the court for the killing of innocent civilians. The murderers of Vedat Aydin were never found.
The murder of Vedat Aydin was a beginning of an era. An era of political murders and extrajudicial killings. Between 1991-99 several thousand Kurds were killed, including MP Mehmet Sincar. About two million Kurds were forced to migrate, about 17 thousand villages were burned to the ground.