"Terror investigation" into slogans at HDP conference in Ankara
The Ankara Chief Prosecutor's Office has opened an investigation into the alleged use of "banned slogans" at the HDP party conference. The accusation is "propaganda for a terrorist organisation".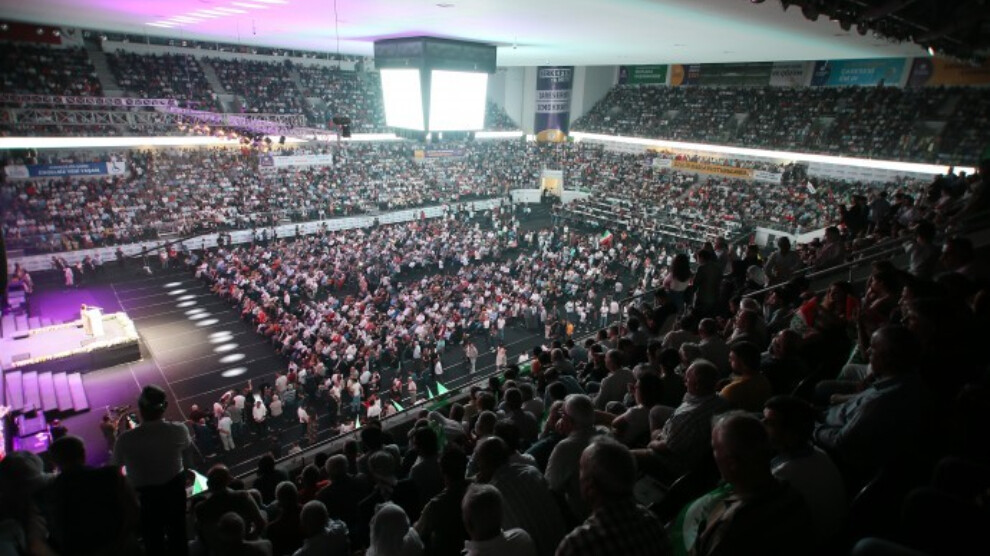 The Ankara Chief Prosecutor's Office has opened an investigation of "terrorist propaganda" because banned slogans were allegedly used at the party congress of the Peoples' Democratic Party (HDP) held in the city on Sunday. As the authorities announced on Sunday evening, four people had already been detained in the course of the ex officio investigation. For the purpose of establishing the identity of all suspects and transferring them to the public prosecutor's office, further investigations will be continued by the Ankara police's anti-terror centre. Terror propaganda in Turkey is punishable by up to five years in prison.
Further detentions are therefore expected throughout the country in the coming days. Meanwhile, the allegedly banned slogans are likely to include "Bijî Serok Apo". This slogan, which translates as "Long live chairman Apo", was shouted particularly often in the chorus at the HDP party conference in Ankara on Sunday. Apo refers to Abdullah Öcalan, mastermind of the Kurdish liberation movement, who has been a political hostage on the prison island of Imrali since 1999.
At its party congress, the HDP reiterated its demand for the abolition of the isolation regime on Imrali and negotiations on a solution to the Kurdish question with Öcalan as an interlocutor - and received the approval of its members in the form of "Bijî Serok Apo". Even though the slogan itself is not considered a criminal offence according to the Turkish Constitutional Court, it is assessed by police and prosecutors as promotional support for the cause of the Kurdistan Workers' Party (PKK). People who use it are not infrequently charged under Turkey's anti-terror legislation and worn down with long trials.
Slogan covered by freedom of expression
The Ankara-based Supreme Court affirmed in a ruling in March 2020 that the Kurdish slogan "Bijî Serok Apo" is covered by freedom of expression. The decision also pointed out that the criminalisation of alleged terrorist propaganda in the context as a supposedly abstract endangerment offence had the potential to restrict other constitutional rights and freedoms as well. A few months before the surprising decision of the Turkish Court, the European Court of Human Rights (ECtHR) had condemned Turkey for violating the right to freedom of expression for chanting the slogan "Bijî Serok Apo". The case was brought by two activists who had been sentenced to fines.
History of the slogan "Bijî Serok Apo"
The slogan "Bijî Serok Apo" has a long history. Its beginnings go back to 1984, when a handful of guerrilla fighters were preparing for the start of armed resistance in Kurdistan. However, "Bijî Serok Apo" was born during a rally from Hanover to Bonn. The demonstration is considered the first "long march" of the Kurdish exile community in Germany.