Syrian Democratic Council meets after Congress
The first meeting to kick off the new work after the Congress was held in Gîre Spi.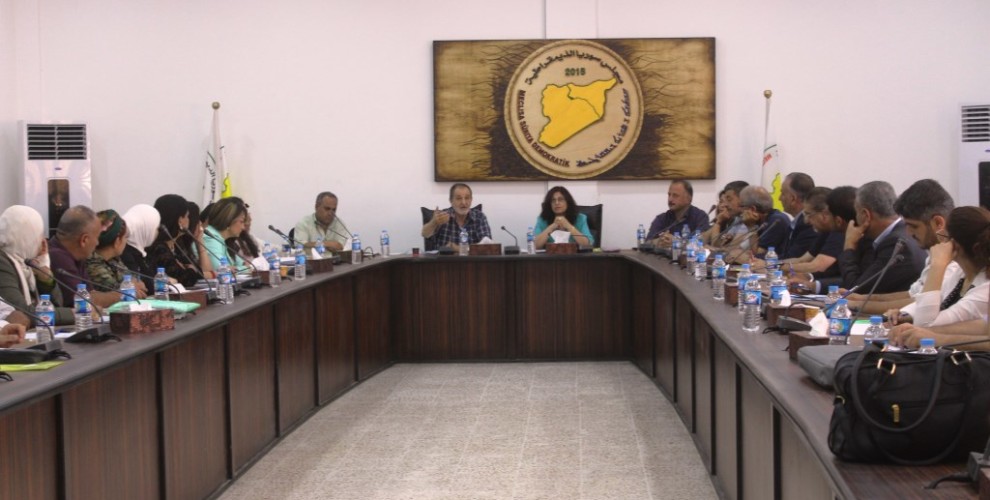 The Syrian Democratic Council (MSD) held its first meeting in Ayn İsa, district of Gîre Spi, after holding the Third Congress in Tabqa, on Monday.
Newly elected Co-chairs Emine Umer and Riyadh Derar attended the meeting together with several councillors.
MSD co-chair, Riyadh Derar, spoke of the third congress and said much work still needs to be done to ensure a solution is reached to the Syrian crisis.
Derar added: "The MSD is going to open offices in all regions and districts of Syria. Soon the Council will be present all over Syria".
Co-chair Emine Umer also spoke about the conclusions of the Congress and read the names of 91 members of the Presidential Council elected on Monday. She assessed the issues of the Congress; women's representation, independent representatives and political alliances, and the proposals made at the Congress.
There was a proposal for the postponement of the presidential council members, and it was decided that members should be appointed next week.
There was a discussion over the duties of the Presidential Council and it was clarified that the doors are open to all sections and tribal areas in the liberated regions. 
18 members were nominated for the Executive Council. At the regular meeting, 7 of the candidates will be elected to the council.