St. Pauli and SV Werder Bremen fans for Rojava
Solidarity with Rojava continues to grow against the Turkish military offensive seeking to invade North and East Syria.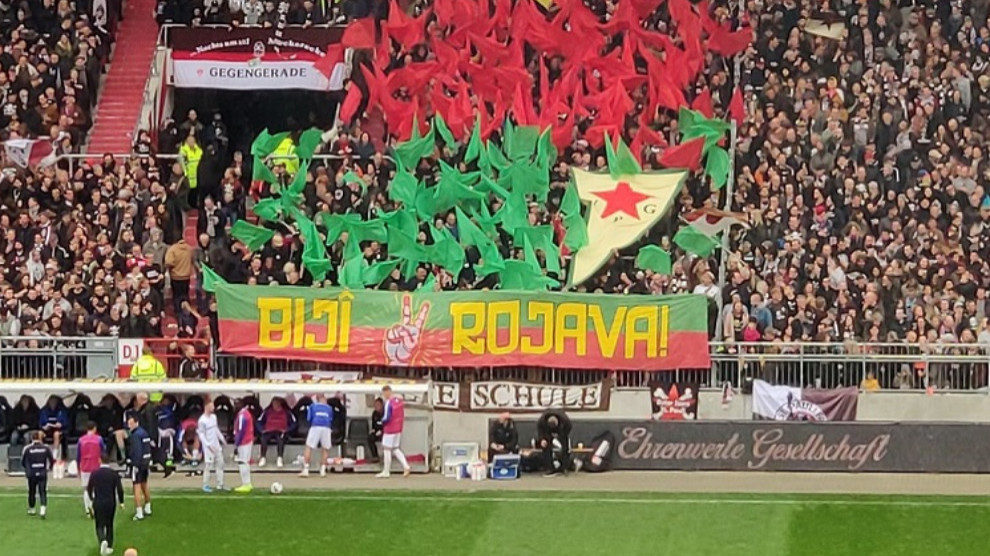 During today's home game against Darmstadt in the Millerntor Stadion, fans of the German club St. Pauli demonstrated against Turkey's incursion into northern Syria.
Unfurling a huge banner that read "Bijî Rojava" [Long Live Rojava] and covering the tribune with red, green and yellow, the St. Pauli fans expressed their support to the people of northern Syria resisting Turkish invasion. The club said they wanted to show solidarity and stand shoulder to shoulder against fascist wars and all attacks on progressive movements.
Today's game between SV Werder Bremen and Hertha BSC Berlin has also witnessed a demonstration by SV Werder Bremen fans in solidarity with Rojava, with fans unfurling a huge banner that read "Hands off Rojava".
St. Pauli has recently parted company with Turkish midfielder Cenk Sahin following an Instagram post in support of Turkey's invasion of northern Syria, saying: "We're on the side of our heroic military and armies. Our prayers are with you."
The German club said: "Sahin has been released from his training and playing duties with immediate effect. The prime factors in reaching the decisions were his repeated disregard for the club's values and the need to protect the player."
"After numerous discussions with fans, members and friends whose roots lie in Turkey, it has become clear to us that we cannot and should not attempt to gauge nuances in perceptions and attitudes from other cultural backgrounds in detail," St Pauli said. "That we reject acts of war is not open to doubt or discussion, however. These acts, and the expression of solidarity with them, run counter to the values of the club."