Solidarity Platform for 3rd Istanbul Airport's jailed workers
A Solidarity Platform was established for the 3rd Airport workers who were arrested for opposing slave conditions.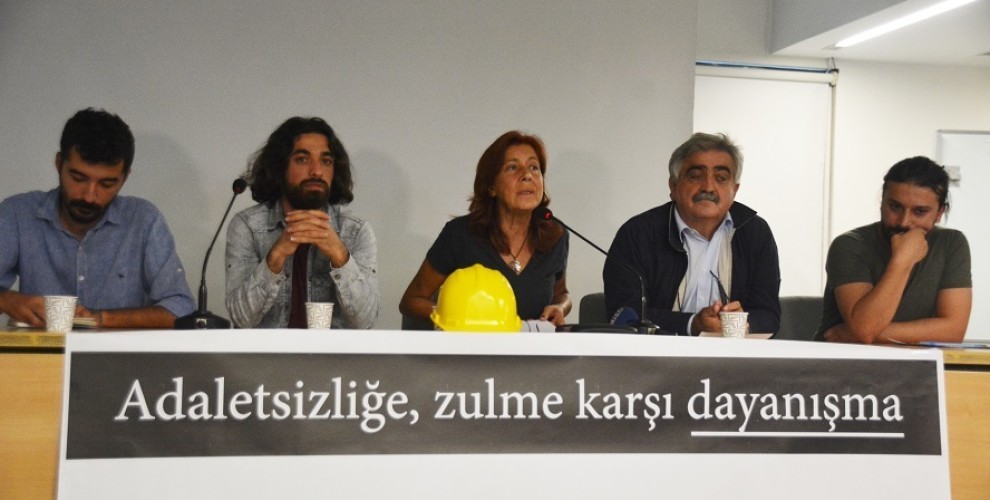 The Platform for Solidarity with Workers of the 3rd Istanbul Airport, made up of trade unions, political parties and intellectuals, held a press conference at the TMMOB Istanbul Metropolitan Branch. 
HDP deputies Hüda Kaya, Serpil Kemalbay, Ali Kenanoğlu, attended the meeting. The first to speak was Dev Yapi-Is General Secretary Nihat Demir. 
"Over the years people have been killed to serve the sovereign in this land. - said Demir, referring to Erdogan's rhetoric - "But now women and children would do what is required" because that's what is needed.  
Underlining that they rejected the bloody war on the sovereigns of this land, Demir noted that as workers they would never accept pressure.
Ahmet Baran Çelik, one of the lawyers for the airport workers, stressed that there was a legal scandalous trial going on. Reminding that the 3rd airport protests began on 14 September and workers were taken into custody, Çelik said: "To scare off the resistance of tens of thousands workers were detained and tortured". 
Following the speeches, the joint press release was read by the HDP Ecology Commission Member Beyza Üstün. 
Reminding that the detention of the workers continued, Üstün underlined that about 600 workers and 5 managers connected to DISK were taken into custody and 30 workers have been remanded in custody. "This is a violation of the constitution", said the HDP deputy. 
As trade unions, mass organizations, democratic institutions and sensitive persons added Üstün "we have created the Platform for Solidarity with Workers of the 3rd Airport". 
Emphasizing that the workers should be released as soon as possible, Üstün explained that the platform is open to all people.
Theatre Performance
The meeting, which continues in the form of questions and answers and suggestions, ended with the performance of some parts of the theatre play "Three Monkeys".