Relatives of imprisoned lawyers rally in Istanbul
The initiative "Relatives of imprisoned lawyers" has demanded the release of the lawyers Ebru Timtik and Aytaç Ünsal on death fast in Istanbul.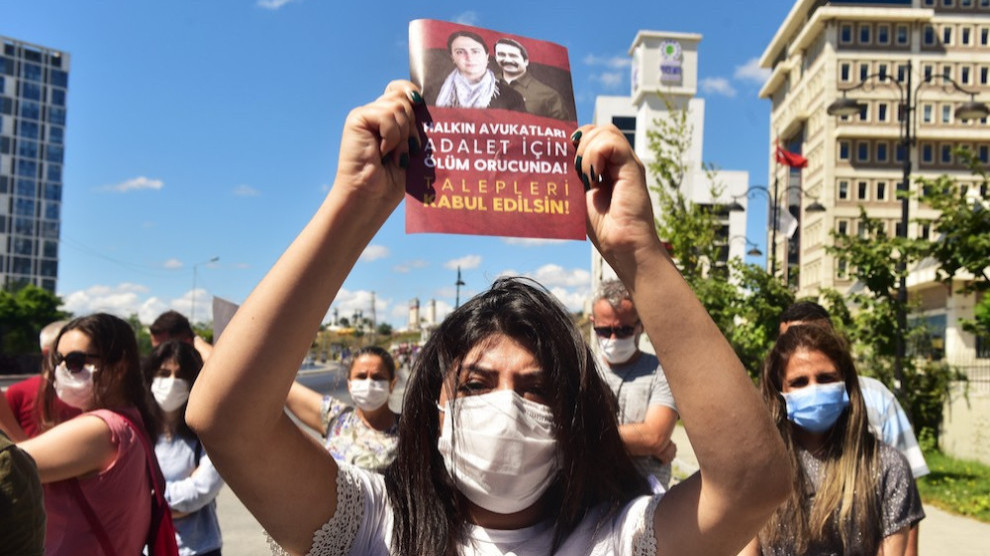 Demonstrations for lawyers Ebru Timtik and Aytaç Ünsal continue in Istanbul. The two imprisoned lawyers demand a fair trial with their death fast and are in a very critical condition after months of food deprivation. Despite being officially declared unfit for arrest, the arrest warrant has not been revoked. The two were admitted to hospital against their will five days ago.
The rally in front of the "Halkalı Kanuni Sultan Süleyman" hospital in Istanbul was accompanied by a large police contingent. The participants held photos of Timtik and Ünsal in their hands and demanded their release from the hospital and a fair trial for them.
Meral Yıldırım Gökoğlu, whose husband Engin Gökoğlu is also in prison, made a speech on behalf of the relatives of imprisoned lawyers and said that Timtik and Ünsal's health is getting worse and worse: "We don't want to lose them! They don't want to die either, they want justice." Gökoğlu pointed out that the lawyers are threatened with force-feeding at any time. Their living conditions in hospital are much worse than in prison because there is neither fresh air nor visitation rights for relatives.
The death fast of Ebru Timtik and Aytaç Ünsal
Ebru Timtik is a lawyer in the left-wing association "People's Legal Bureau" (Turkish: Halkın Hukuk Bürosu"). She has been on a death fast for 214 days now. Her colleague Aytaç Ünsal has refused any intake of food for 183 days. Both were sentenced to long prison terms due to contradictory statements of the chief witness Berk Ercan. The charges of this defector have led to the arrest of almost 200 people. They were all sentenced according to terror paragraphs in the complex of proceedings against alleged members of the DHKP-C. Among them are several members of the music band Grup Yorum and Mustafa Koçak, who was sentenced to life imprisonment and died last April on hunger strike as a result of forced feeding.