Rally in front of EU Parliament: Stop the silence!
In front of the Brussels office of the European Parliament, a rally against the ignorance of Europe took place in solidarity with hunger strikes against the isolation of Abdullah Öcalan.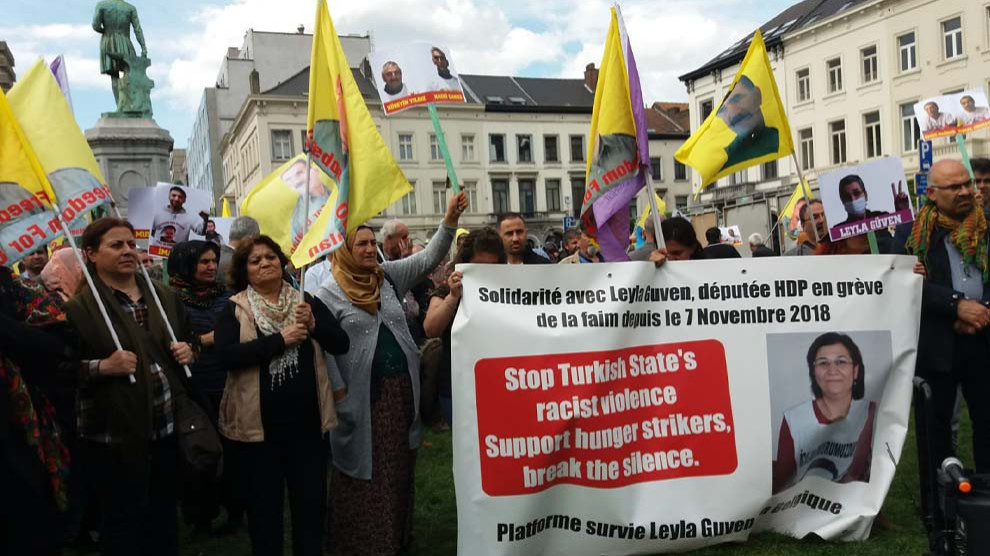 A rally in protest at the EU's and its institutions' ignorance of the indefinite hunger strike actions ongoing for months against the aggravated isolation imposed on Abdullah Öcalan was held in front of the Brussels office of the European Parliament on Wednesday.
The demonstrators called on the European Parliament, the Council of Europe and its Committee for the Prevention of Torture (CPT) and the United Nations to stop their silence on HDP politician Leyla Güven's hunger strike protest for "Dialogue Instead of Isolation" and to take urgent action to end the system of injustice in Turkey in order for the Turkish government to respect human rights.
The rally was attended not only by Kurds living in Belgium. Many activists from countries such as France, the Netherlands and Germany also came to the rally, which had been called for by the umbrella organization of the Kurdish community in Europe, KCKD-E.
The rally began after a minute of silence for the martyrs of the Kurdish liberation movement and the victims of the Armenian Genocide, who were commemorated worldwide yesterday on the 104th anniversaryi With slogans such as "murderer Erdoğan" and "yesterday Hitler, today Erdoğan" the demonstration participants expressed their protest.
In speeches, co-chair of the KCDK-E, Fatoş Göksungur, and co-chair of the Kongra-Gel, Remzi Kartal, pointed out that only with the lifting of isolation could stability be restored in Turkey. Both politicians underscored Europe's need to act for hunger strikerss and put pressure on the AKP government to meet the demands of the thousands of activists joining the fast in and outside prisons.