Protest against Turkish occupation attacks in Australia
In Perth a protest action against the Turkish attacks on Kurdistan has taken place on Saturday. Sam Wainwright of the Socialist Alliance of Australia called for the protection of Kurdistan from dictator Erdogan.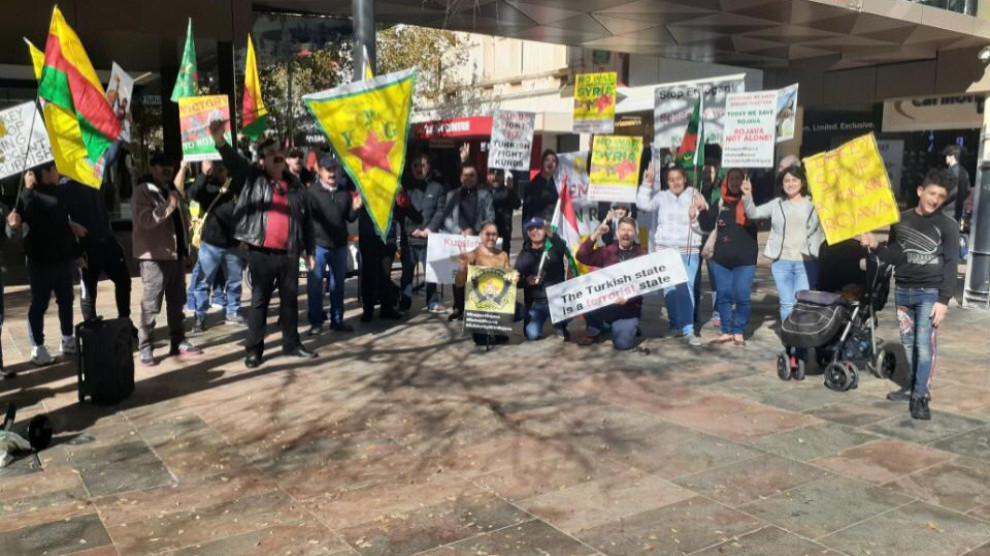 In Perth, Australia, a demonstration was staged against the Turkish state's occupation attacks on Kurdistan. The protest action was promoted by the Kurdish Community Center DKTM. In addition to Kurds, Australian representatives of political parties, human rights organizations and civil society institutions took part in the rally at the Forrest Place Murray Street Mall.
Sam Wainwright of the Socialist Alliance of Australia said in a speech: "The Turkish state must give up its Ottoman dream. We must protect Kurdistan from the dictator Erdogan. We stand by the side of those who have defended humanity against the ISIS."
Referring to the genocide against the Yazidi people, Wainwright said: "The Turkish state wants to complete what the ISIS has not completely succeeded in doing. The attacked Maxmur camp is under UN supervision and everyone must assume their responsibilities."
Further speeches were made by Dr. Bahaadin Penjwen on behalf of the Bashur (South Kurdistan) committee and Dr. Yaseen Khalil of the Rojava committee. In an address by the DKTM, a call was made to raise the voice against Turkey's expansion plans.