Police violence during protest demo against "deep state" in Istanbul
In Istanbul, a demonstration by the Revolutionary Party against criminal structures within the Turkish state apparatus was violently broken up by police. At least 15 people were detained.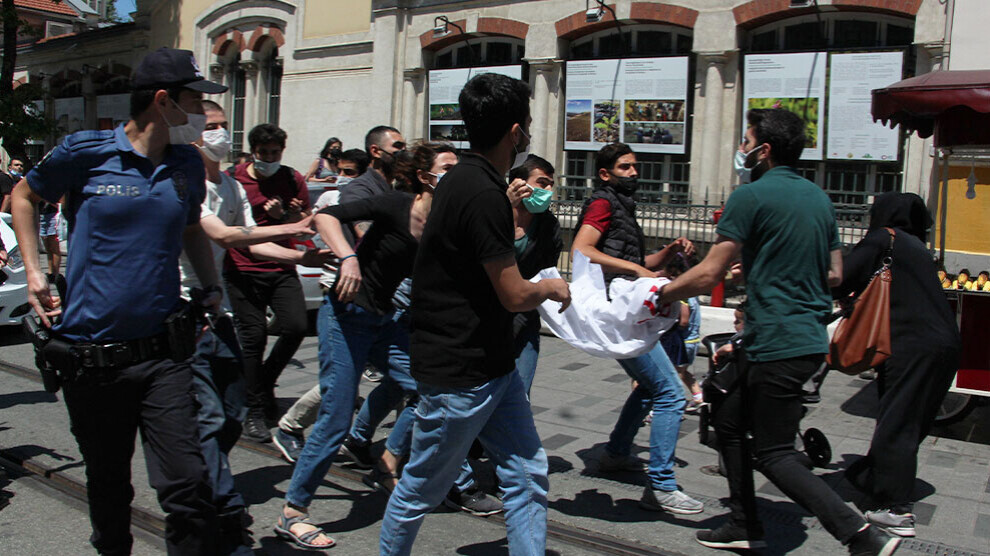 Turkish police broke up a demonstration in Istanbul against criminal structures within the state apparatus. At least fifteen people, most of them members of the "Revolutionary Party" (tr. Devrimci Parti, DP), were forcibly taken into custody. Tear gas was also used by police against the demonstrators. The DP's deputy secretary general, Burcugül Çubuk, reportedly suffered a broken arm.
"This government is a jihadist gang network"
The DP had called for the demonstration under the slogan "People's power instead of state mafia and oppression". The background is the links between parts of the Turkish state and organized crime, which are currently also brought to light by the Turkish mafia boss Sedat Peker in so-called disclosure videos. "This government is a jihadist gang network," said DP activist Can Çıldır at the start of the protest, for which participants had gathered in Mis Sokak, a side street just off the Istiklal Avenue in the central Beyoğlu district. "Facing this criminal network, we are the Saturday Mothers who are searching for their missing children. We are the families of those who died in Ankara, Suruç and Amed. We are the peace mothers and the many young people who were murdered by Islamists. We are the missing Gülistan Doku. We are the toilers who are crushed so that the wheel of exploitation turns. We are the oppressed and we are here," Çıldır shouted militantly toward the police.
HDP deputy accuses police of torture
Başak Yeşilot of the DP women's organization pointed to the Turkish government's arms supplies to jihadist militias in Syria in a speech. "This order of mafia and state can only be countered by people's power," the activist said. The police assault occurred before the crowd reached Taksim Square. Among those present was HDP deputy Musa Piroğlu, who was also denied entry to the square. The politician then referred to the police as "torturers".