People in Qamishlo protest International Conspiracy
People in Qamishlo protested the 15 February Conspiracy against Kurdish people's Leader Abdullah Öcalan, and emphasized that they would increase the struggle until his freedom is achieved.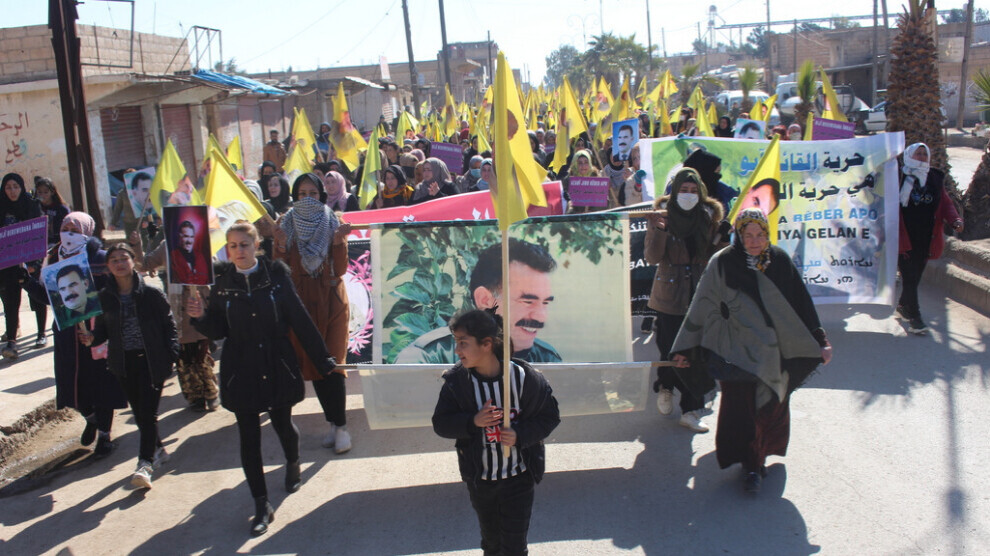 Actions were held in the city of Qamishlo as well as in Til Birak, Tirbespiyê, Çilaxa and Dêrik to mark the 24th anniversary of the 15 February International Conspiracy that led to the capture of Kurdish people's Leader Abdullah Öcalan.
The Cizre Region Sports and Youth Committee held an action in front of the Mihemed Şêxo Culture and Art Center in the city center of Qamişlo, with the slogan "You cannot darken our sun".
Speaking at the march, which was attended by hundreds of people, Cizre Region PYD Assembly Executive member Zeyneb Murad said that because Abdullah Öcalan presented the democratic project to the world, the imperialist states wanted to alienate him from the people through isolation. Murad noted that they should rise up and increase the struggle to ensure the physical freedom of Öcalan and protest the isolation and torture system in Imrali.
Abdullah Öcalan's pictures and books were distributed during the action.
The International Conspiracy was protested with a march in Til Birak, a meeting in Tirbespiyê, a seminar in Çilaxa, and a statement in Derik. The statements made emphasized that the International Conspiracy's unity and struggle of the peoples had thwarted the conspiracy, and called for the expansion of the struggle to ensure the freedom of Kurdish people's Leader Abdullah Öcalan.