Peace delegates detained at Frankfurt airport released
The peace delegates detained by the federal police at Frankfurt airport on their return from Southern Kurdistan are free again.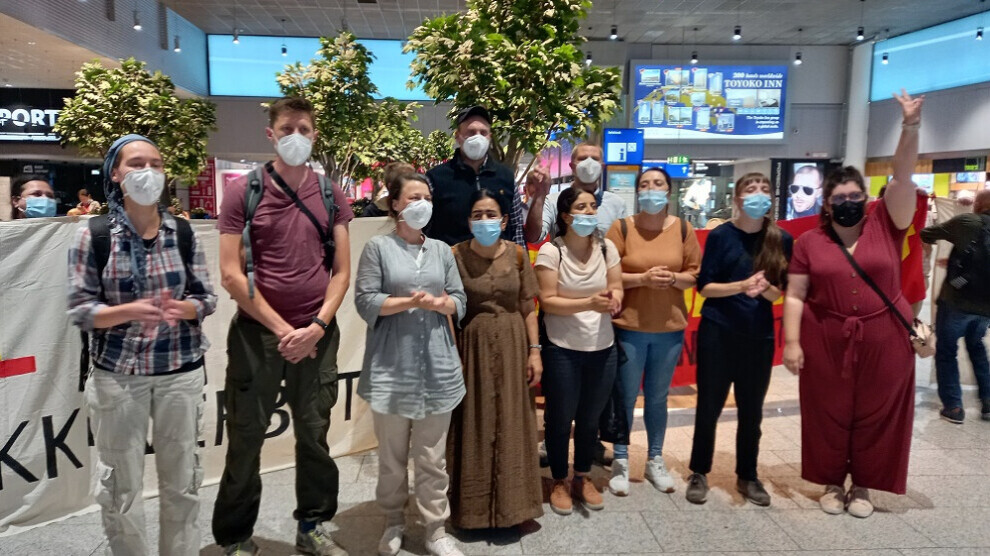 The peace delegates detained by the Federal Police at Frankfurt Airport on Wednesday afternoon on their return to Germany have been released. A total of nine members of the internationally established "Delegation for Peace and Freedom in Kurdistan" had returned today from South Kurdistan (Kurdistan Region of Iraq) via Qatar. While three Swiss members were able to enter the country without any problems, the Federal Police carried out detention and questioning in the case of six German nationals.
"At first they said it was a normal questioning, but it was clear relatively quickly that this is political repression and that our activity for peace in South Kurdistan is wanted to be criminalized," explained one of the affected delegates at Frankfurt airport. So far, all those who returned from South Kurdistan by the delegation were able to enter Germany without any problems.
"We were there to stand up for peace," said the activist. Especially for people from Europe it is a responsibility "not to close our eyes" to the Turkish military actions in South Kurdistan, but to be an active part for an end of the aggression. "We have been there to talk to the people but also to the different Kurdish parties to work against the intra-Kurdish division and to promote dialogue." But above all, he said, the trip was about advocating against the Turkish invasion of southern Kurdistan and military operations.
The fact that the security authorities now detained the delegation members as they entered Frankfurt clearly shows "how strongly the German and Turkish states are connected" and how deep this friendship goes, the activist said. It is a friendship, "against which we also fight again and again". The domestic policy spokeswoman of the parliamentary group DIE LINKE, Ulla Jelpke, had called the arrests a "scandal".
International repression against Initiative for Peace
The peace delegation has been criminalized in various ways. In Düsseldorf, the federal police had forbidden 15 members to leave the country for South Kurdistan. Four other delegates were not forbidden to leave, but they missed their flight because of the control. Among them was Cansu Özdemir, the co-chairwoman of the left-wing parliamentary group in the Hamburg parliament. Dozens of other delegation members who had made it to South Kurdistan were sent back by the security authorities of the autonomous government. Delegates in the Qatari capital Doha had also been denied exit to Hewlêr (Erbil). Cansu Özdemir has already announced a legal follow-up and intends to file criminal charges for deprivation of liberty and coercion, saying that the action of the federal police at Düsseldorf airport was clearly illegal.