New round of Syria talks in Geneva
After nine months of compulsory break due to the coronavirus pandemic, the third round of talks of the so-called Constitutional Committee for Syria has begun in Geneva. Again not at the table is the autonomous administration.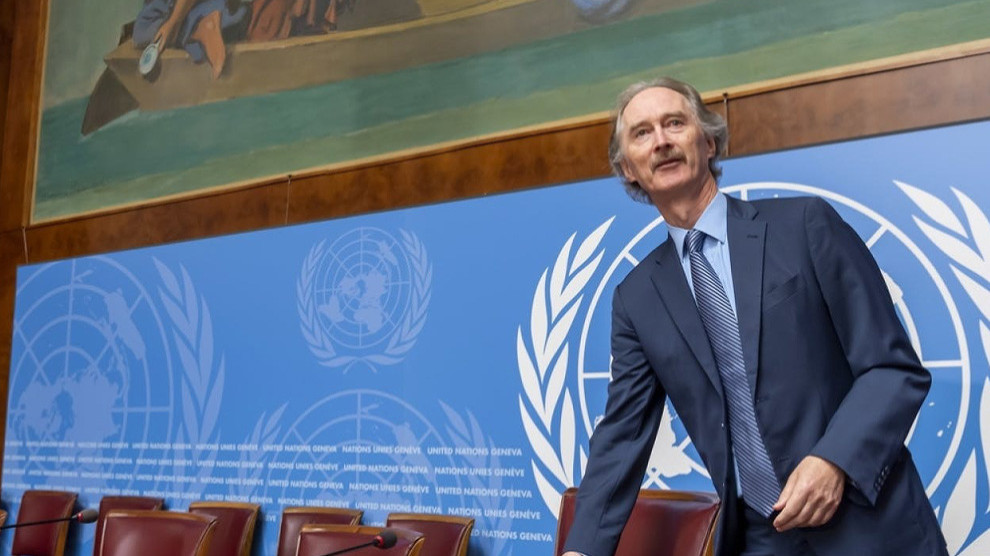 After nine months of forced break due to the Corona pandemic, the so-called Constitutional Committee for Syria, under the aegis of the United Nations, continues its deliberations at the League of Nations Palace in Geneva. Fifteen representatives each from the government in Damascus, the "opposition" supported by Turkey and civil society organizations are to draw up the work program for the constitutional talks. The constitutional committee formed last fall could open the door to a political process and create trust, declared the UN special envoy to Syria, Geir Pedersen, in a briefing for the UN Security Council last week. However, no one should expect a miracle; the deliberations would be long and difficult.
It is said that the talks of the so-called Small Chamber will initially continue until Friday. At the end of the process, a draft constitution is to be drawn up, which the Grand Chamber of the body with 150 delegates must approve. Pedersen will also meet separately with representatives of the foreign powers active in Syria, Russia, the USA, Turkey and Iran. The Autonomous Administration of North and East Syria, which represents almost six million people in Syria, is not represented on the constitutional committee.
The first round of talks ended without result in November 2019. Although the parties agreed on another round as early as March of this year, Covid-19 thwarted their plans. In a resolution in 2015, the UN Security Council had stipulated the formation of a constitutional committee as part of a comprehensive peaceful solution to the Syrian conflict. But there was a long dispute over the composition of the committee. At Turkey's insistence, however, it was known early on that the representatives of the democratic project of North and East Syria would not sit at the table.
"A new constitution for Syria should be written by the peoples who liberated the country," says Abid Hamid al-Mihbash, co-chair of the Executive Council of the Autonomous Administration. The Syrian crisis has been unresolved for more than nine years. International meetings that only seemingly intend a solution have lasted almost as long. Whether in Vienna, Munich, Astana, Riyadh, Cairo, Sochi or now in Geneva, Mihbash calls the talks a "pure waste of time". The reason is obvious: "The committee does not act in the interest of the people, but for the interests of Turkey, Russia and Iran. Therefore, it will also end up in a dead end in this round. We have made it clear from the beginning that such a committee cannot contribute to solving the problem without the involvement of our peoples. As long as the will of millions of people remains unheeded, the Constitutional Committee will not find its way out of the impasse."